Scott Russell
CBC Sportscaster, Author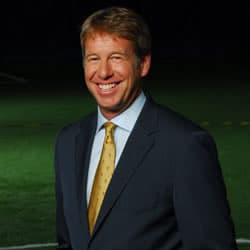 Scott Russell is a Gemini-Award winning broadcaster and acclaimed author, originally from Oshawa. He holds a Masters of Arts degree from the University of Western Ontario, and is known across the nation for his coverage of amateur sports.
Scott's CBC Sports broadcasting extensive experience includes the nationally-loved Hockey Night in Canada. CBC host of the 2008 Beijing Olympics and Late Night host of the 2004 Games, he has been part of the coverage for eleven Olympic Games as well as covering triathlon, gymnastics, rugby, cross-country skiing and biathlon at several Pan Am and Commonwealth Games. He hosted CBC's coverage of the 2010 FIFA World Cup and the 2011 FIFA Women's World Cup, and has also periodically worked on CFL and curling telecasts as a sideline reporter.
Most recently, Scott was an integral part of the CBC's Olympic coverage for the summer games in London 2012.He brings extensive experience, passion and knowledge to his role as the host of CBC's Sports Weekend on CBC.
Off-air, Scott teaches a course in Canadian Sport History at the School of Sports Journalism at Centennial College in Toronto and sits on the Education and Outreach Commission of the Canadian Olympic Committee. He is an avid cottager and runner, qualifying for and then completing the 109th Boston Marathon in 2005. His three books are The Rink: Stories from Hockey's Hometowns (co-authored with Chris Cuthbert), Icetime: The Unsung Heroes of Hockey, and Open House: Canada and the Magic of Curling.
Speakers Like Scott Russell
Check Speaker Availability and Pricing
"*" indicates required fields