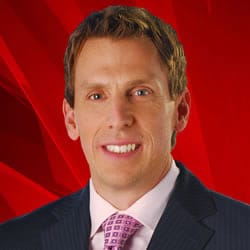 Book James Duthie
Add to My List
One of the most talented and funniest stars in Canadian media today, James Duthie is the host of TSN's extensive NHL coverage, including the award-winning NHL on TSN. He was also the daytime host of CTV's highly acclaimed 2010 Olympic coverage, and the host for CTV's coverage of Team Canada's historic gold medal hockey run. In his time at TSN, he has also hosted NBA, CFL, NFL, PGA golf, and Sportscentre.
Duthie is also the author of two best-selling books: The Day I Almost Killed Two Gretzkys and other off-the-wall stories about sports and life and They Call Me Killer, stories from coaching legend Brian Kilrea. His latest, The Guy on the Left: Sports Stories from the Best Seat in the House, was released in Fall 2015.
James won 3 straight Gemini Awards as Canada's Best Sports Broadcaster, and was honoured with the prestigious Sports Media Canada Award for Excellence in Broadcasting.
His hilarious stories from a life in sports have made him an extremely popular speaker and MC. Recognized across the country for his outstanding work, Duthie's entertaining and sharp-witted style has made him a fan favourite.
Speakers Like James Duthie