Ray Scapinello
Former NHL and Olympic Hockey Referee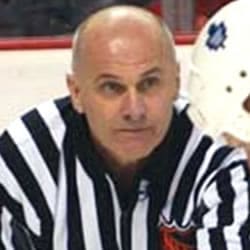 Despite setting untouchable records for games worked by an official in the National Hockey League, including 2,500 regular season contests and 426 playoff games, Ray Scapinello's statistics don't do justice to the respect he has earned. In recognition of his status as one of the most highly skilled and respected officials to ever lace up a pair of skates, Ray was inducted into the Hockey Hall of Fame, as a member of the class of 2008.
Known for his work ethic and dedication to the game, Ray worked an astounding twenty Stanley Cup final series, three All-Star games, and the 1998 Nagano Winter Olympics. Meanwhile, on and off the ice, Ray is considered one of hockey's great personalities, a chronic practical joker when appropriate, an ambassador of the sport to everyone involved, and an on-ice official capable of diffusing the most intense situations. Since his retirement following the 2003-2004 season Ray has remained an ambassador for the sport of hockey, through hosting his annual Ray Scapinello Road Hockey Tournament, benefiting youth in Ray's hometown in Ontario. Ray currently works as an analyst on The Score Television Network, and has also teamed up with Rob Simpson in co-authoring the book "Between the Lines: Not-So-Tall Tales from Ray 'Scampy' Scapinello's Four Decades in the NHL".
Scapinello is an avid skier, on both mountains and on water, and spends his summers cottaging with friends and family. He recently started the Ray Scapinello Foundation, to help needy college students pay for tuition. Ray is an accomplished motivational and after-dinner speaker, specializing in topics such as teamwork, motivation and leadership.
Speakers Like Ray Scapinello
Check Speaker Availability and Pricing
"*" indicates required fields
Recent Publications by Ray Scapinello