Jim Ralph
Sports Announcer and Former Goalie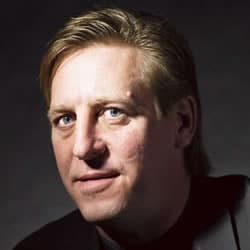 Jim Ralph is best known for his dry, self-deprecating sense of humour, and his comical impersonations of famous Canadian sportscasters, including Foster Hewitt, Danny Gallivan, Dick Irvin, Bob Cole, Brian Williams, and of course Don Cherry.
Jim spent seven years as a minor league goaltender. After retiring from hockey in 1989, Jim began his broadcasting career by co-hosting Rinkside, a weekly half hour hockey show that aired on TSN. He has also been a reporter for Global Television's Sportsline, and was co-host of Molson Leaf Hockey on the Global Television Network. Today he covers the Toronto Maple Leafs as colour commentator on their radio broadcasts, where his insightful observations and entertaining anecdotes, keep fans informed and entertained.
As a guest speaker or master of ceremonies, Jim's steady stream of one-liners and comical impersonations have made him one of Canada's most popular speakers. He has spoken at the Conn Smythe Celebrity Sport Dinner in Toronto, has presided at Wayne Gretzky's star-studded slowpitch baseball tournament in Brantford, the annual meet-the-Leafs luncheon, and the Hockey News award banquet, among countless other events.
Check Speaker Availability and Pricing
"*" indicates required fields
"Feedback on your presentation to our group was great - a wonderful and light-hearted way to start our 5 days of intense sales and marketing meetings." - Johnson & Johnson Medical Products
"We expected you to be well received, but you surpassed our expectations". Leukemia Celebrity Golf Classic