Ben Mulroney
Co-Host of CTV's Your Morning and anchor of CTV's etalk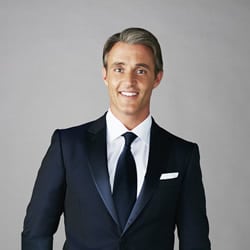 Ben has been working in television and radio for over 18 years: from the chatroom, to Canadian Idol and etalk, he has become a familiar face across the country. Over the years, Ben has interviewed the biggest and brightest stars of film, fashion music, and television from around the world.
Ben is the co-host of CTV's Your Morning seen across Canada as well as etalk. You can often find Ben on the red carpet at the entertainment industry's greatest events including The Oscars, The Golden Globes and the Juno Awards.
On top of his regular duties, Ben has worked for Good Morning America, he has guest hosted Live! With Kelly and was a member of the broadcast team from the 2010 Winter Olympic Games in Vancouver. He is producing a number of personal projects and works closely with children's charitable organizations.
No matter how busy he is, or where his work takes him, Ben is always most proud of his family: his wife Jessica and his children Brian, John, and Ivy.
Speakers Like Ben Mulroney
James Duthie
TSN's NHL Host – Virtual Sports Speaker and Host
Kurt Browning
World and Canadian Figure Skating Champion and Olympian
Jeanne Beker
Fashion Journalist, Host of Fashion Television and Media Icon
Check Speaker Availability and Pricing
"Ben was a real pleasure to work with. He is so professional and generous. He made our life very easy. The event went super well. The client and guests were super happy about his performance. We would love to work again with Ben!" - Dairy Farmers of Canada