Vic Rauter
TSN's Curling Announcer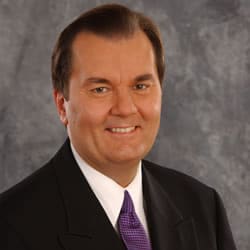 Known as the 'voice of curling' in Canada, Vic Rauter has anchored TSN's curling coverage for 20 years.
Off the ice, Rauter has been a key player in TSN's soccer coverage since 1986, providing commentary for the Canadian Olympic and World Cup qualifying bids, Toronto Blizzard and TSN's coverage of the 1986, 1990, 1994, 1998, 2002 and 2006 World Cup.
Prior to joining TSN, Rauter spent four years as a sportscaster with CBC in Toronto, covering various Olympics including Los Angeles in 1984, Calgary in 1988, and Barcelona in 1992. In 2012, he will be part of CTV's media consortium for the London Olympics.
Rauter provided the play-by-play commentary for TSN's highly acclaimed coverage of the Tim Hortons Canadian Curling Trials, Scott Tournament of Hearts, Tim Hortons Brier and the Ford World Women's Curling Championships.
Vic Rauter brings a wealth of experience and professionalism to every broadcast. In 1999, he was nominated for a Gemini Award as Canada's top sportscaster, and was inducted into the Canadian Curling Hall of Fame in 2006.
Check Speaker Availability and Pricing
"*" indicates required fields