Rosie MacLennan
London 2012 Gold Medalist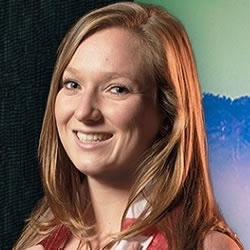 As the youngest of four children, Rosannagh (Rosie) MacLennan often tagged along to her older siblings' gymnastic lessons. When she was 7, Rosie could no longer stand to simply watch from the sidelines and she finally got her turn on the trampolines. At age 11, Rosie began competing internationally and was the Canadian National Women's Champion in 2005, 2009 and 2011.
At the 2007 World Championships in Quebec City, Rosie earned a spot for Canada at the Beijing Olympics alongside longtime friend, synchronized trampoline partner and fellow Olympian Karen Cockburn. In Beijing, Rosie qualified for the finals and finished in 7th place overall.
Rosie's competitive performances in 2011 demonstrated that she was a rising star in her sport. She won a gold medal at the 2011 Pan American Games in Guadalajara, Mexico, followed by a second place finish at the Trampoline World Championships in Birmingham, UK where she earned her ticket to the London 2012 Summer Olympics.
At the 2012 Games, Rosie quite literally landed at the top of her world, taking home the gold medal in Women's Trampoline.
Rosie is a recent graduate of the University of Toronto with a bachelor's degree in Physical Education and Health. Off the trampoline, she remains active through some of her favourite sports: skiing, snowboarding, wakeboarding and dancing.
Speakers Like Rosie MacLennan
Check Speaker Availability and Pricing
"*" indicates required fields
Olympic spirit - Motivation and Inspiration