Nick Nurse
Virtual Keynote Speaker
Head Coach Toronto Raptors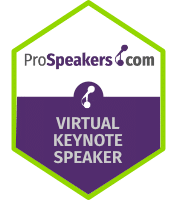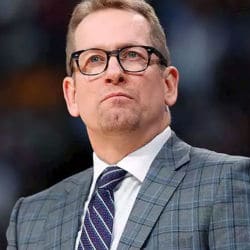 Nick Nurse is the Head Coach of the Toronto Raptors, the 2019 NBA champions. He led the Raptors to 58 regular season wins, a .707 winning percentage and the Atlantic Division and Eastern Conference titles. His team set franchise records for points per game (114.4), assists per game (25.4), rebounds per game (45.2), and three-point field goals made (1,105). He was named Coach of the Month for November 2018. Known for his offensive flair and on-court innovation, Nurse joined the Raptors as an Assistant Coach in 2013 and helped construct an offensive system that ranked among in the NBA's top 10 in three of five seasons. A graduate of the University of Northern Iowa, Nurse began his coaching career at the age of 23 when he became the head coach of Grand View College, making him the youngest college basketball coach in the United States. He moved on to an assistant coach position at the University of South Dakota where his teams recorded a 46-14 mark. Nurse was named head coach of the Canadian Senior Men's basketball team in June 2019. He has also served as an assistant coach in the 2012 Olympics for the host British National Team.
Nick Nurse a lively and exciting speaker – telling stories of the drive to the NBA Championships. He speaks about building a team and developing a winning attitude. Bring the excitement of the Toronto Raptors and Nick Nurse to keynote to your next event.
Jack Armstrong
Charismatic Commentator, 'The Coach' – Virtual Sports Celebrity
Matt Devlin
The Voice of the Raptors and Virtual Sports Reporter
Check Speaker Availability and Pricing
"*" indicates required fields
Virtual Keynote Speaker
The NBA Coach of the year and Raptor Nick Nurse is available to join your online corporate event virtually. He provides an upbeat and motivational presentation about how to win in a changing environment.
Appearances
Bring the excitement of the Raptors and the cache of a NBA celebrity to your events, golf tournaments or corporate dinners by having Nick Nurse act as your host, emcee or engage in a meet and greet.
Basketball Stories - Life in the NBA
What's it really like to run the Toronto Raptors?  Look behind the backboard to hear tales from the bench, locker room and about the players themselves.  This unique insight will provide you with lessons on goal setting, the winning edge sprinkled with humor and stories of the Toronto Raptors that you won't hear anywhere else!
Leadership
What does it take to win a NBA Championship and work with Kyle Lowry & Kawhi Leonard? Success in the NBA parallels success in business.  Learn from an award-winning NBA Coach Nick Nurse on how they lead their business and, as importantly, deal with setbacks to refocus on meeting their end goals.
Motivating Millennials
One of the hottest debates today is "How do you motivate Millennials to drive your business forward?"  Hear from one of the best NBA Coach Nick Nurse, who takes a different group of Millennials each year and motivates them to the reach their highest performance for the Toronto Raptors.
ProSpeakers.com is a sports speakers bureau and marketing agency. We work on behalf of our clients to get the best booking price for the desired speaker. In addition to arranging appearances and speaking engagements, we represent corporations, PR firms and other organizations hiring sports stars for advertising campaigns, marketing campaigns, endorsements, new product launches, publicity events, fundraisers, trade shows, conventions, meet and greets, and product launches. We do not exclusively represent Bianca Andreescu. Athlete booking fees are deemed to be reliable, but not guaranteed and can change at any time due to the demand, travel schedule, event location or other factors.