Jack Armstrong
Charismatic Commentator, 'The Coach'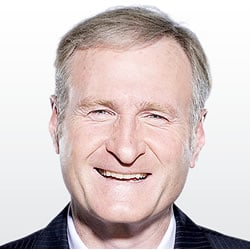 Book Jack Armstrong
Add to My List
Armstrong's vast knowledge and passion is well known - and respected - throughout the basketball world, where he has spent his entire broadcast career focusing on the Toronto Raptors. Over the course of his 15+ years in broadcasting, Armstrong has become one of the most recognizable faces - and voices - in Canadian sports.
Armstrong began coaching when he was 19 years old. He was an NCAA Division Coach for 14 years. He coached at Niagara University for 10 year, where he ranks 4th for all-time wins as head coach, and then at Fordham University for 4 years. He spent two years as a High School Coach at Nazareth High School in Brooklyn.
In 1993, Armstrong was awarded with the NCAA New York State Division Coach of the Year and the MAAC Conference Coach of the Year.
Armstrong joined TSN in 2008 and joins Raptors play-by-play announcer Matt Devlin courtside during all of the TSN/TSN2 Raptors games. Throughout the NBA season Armstrong is featured in regular segments on SportsCentre as the Basketball Insider and also writes a weekly NBA blog for TSN.ca.
Speakers Like Jack Armstrong