Heather Greenwood Davis
Spokesperson, Parent, World Traveler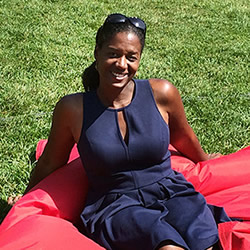 Book Heather Greenwood Davis
Heather Greenwood Davis is a lawyer turned multiple award-winning journalist, travel columnist, freelance feature writer and blogger. Called to the Bar in Ontario in 2001 after completing both Journalism and Law degrees, Heather practiced law for several years before returning to her primary passions: writing and travel.
Today, her columns and feature articles appear in newspapers, magazines and online publications around the world including The Toronto Star, Lexpert Magazine, Canadian Family Magazine, Urbanmoms.ca, Disney.ca, Budget Travel, Hemispheres, Parents Canada and more.
In addition to her public media work, Heather has been a consultant for the Canadian Tourism Commission and works with companies as diverse as Four Seasons Hotels & Resorts and Rogers Communications.
Her unique mix of experiences and career paths coupled with her life as a married mother of two has made her an oft-sought motivational speaker for youth and professional organizations alike.
Most recently, Heather has found herself on the other side of the camera. Her life became the subject of much media attention when she and her husband dropped everything, pulled their two sons under the age of 10 out of school and traveled the world for a year. The family visited 29 countries on six continents from June 2011 - June 2012, sharing the inspiring journey via social media and traditional media channels and inspiring people around the world.
Among Heather's passions: Living life to the fullest, keeping an open mind and exploring the planet one person at a time.
- Read More -
Speakers Like Heather Greenwood Davis
Check Speaker Availability and Pricing
"*" indicates required fields
Take (control of) Your PDA: Why traveling with your device doesn't have to be as divorce-inducing as you thought
Moving past your 9 - 5: How to break free of your career and find your passion
Why It's Time to Dump Your Bucket List
Social Media 365: How a year of traveling with my family brought me closer to my iPhone (and my kids)
Me First, Mom Second: How to maintain yourself while raising your family
How to Talk So Your Kids Will Listen