Dr. Sima Samar
Chair of the Afghanistan Independent Human Rights Commission.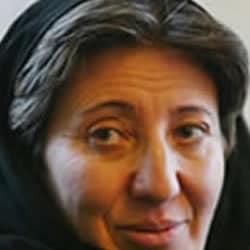 Dr. Sima Samar is probably one of the most selfless leaders on the world stage today. Dr. Samar fled Afghanistan in 1984 after her husband was arrested and killed during the Soviet invasion. Since then she has been fighting for the rights of women and children suffering under Soviet repression and subsequent Taliban rule. In 2003, Dr. Samar was appointed chair of the Afghanistan Independent Human Rights Commission. In 2002, she received Canada's prestigious John Humphrey Freedom Award and in 2004 the John F. Kennedy Profile in Courage Award.
Dr. Samar gained a medical degree from Kabul University and developed a passion for women's rights. She practised medicine in a border refugee camp before opening a hospital for women in 1987. With initial funding from Church World Service, she began setting up clinics and girls' schools inside Afghanistan, travelling frequently between the two countries.
In all, Dr Samar opened 10 Afghan clinics and four hospitals for women and children, as well as schools in rural Afghanistan for more than 17,000 students. In Pakistan, she founded a hospital and school for refugee girls. Literacy programs established by her organization were accompanied by distribution of food aid and information on hygiene and family planning.
These were dangerous pursuits under the Taliban regime. But the risks did not deter the doctor. "I've always been in danger, but I don't mind," she said. "I believe we will all die one day so I said let's take the risk and help somebody else."
Dr. Samar's message is one of inspiration and courage, particularly for women.
- Read More -
Speakers Like Dr. Sima Samar
Sally Armstrong
Amnesty International Award Winner, Order of Canada Member, Filmmaker, Author, Human Rights Activist
Maude Barlow
National Chairperson, Council of Canadians, Co-founder, Blue Planet Project, Director, International Forum on Globalization
Rona Maynard
Former Editor of Chatelaine Magazine
Check Speaker Availability and Pricing
"*" indicates required fields