Rona Maynard
Former Editor of Chatelaine Magazine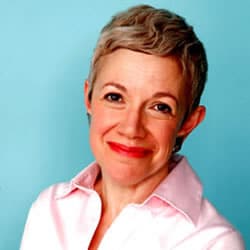 Rona Maynard was Editor of Chatelaine through a decade of growth and innovation in which she proved to a new generation of readers that "my mother's magazine" was now their magazine too. In the face of relentless competition from American niche magazines, she met every bottom-line benchmark as she made Chatelaine the meeting place where women could inspire one another, whether they were just starting out in their careers or embarking on mid-life reinventions.
A relationship-builder of unswerving commitment, Maynard became renowned for the honesty and intimacy of her editorials, in which readers felt she was speaking directly to them--even though Chatelaine was an icon with 3 million readers. She personally answered thousands of letters to the Editor, paying special attention to complaints because they sharpened her focus on the audience she served. She created a proudly consumer-focused team on which even headstrong Gen Yers understood that there was no such thing as "Not my job." Under her leadership, Chatelaine won prestigious awards for reporting, art direction, overall excellence and newsstand sales.
When Rona fulfilled her mission for Chatelaine at the end of 2004, she stepped down to write the book her readers had been asking for: My Mother's Daughter, a memoir Alice Munro has called "wonderfully honest and enthralling." Rona's gift for relationship-building is front and centre at the podium, where she mines her own story for life-tested wisdom that strikes a universal chord.
Rona's personal honours include a Woman of Distinction Award from the YWCA of Metropolitan Toronto, a Woman of Action Award from the Israel Cancer Research Fund, a Media Award from the Canadian Nurses Association and a National Champion of Mental Health Award from the Canadian Alliance on Mental Illness and Mental Health.
- Read More -
Speakers Like Rona Maynard
Check Speaker Availability and Pricing
"*" indicates required fields
The Healing Power of Work
Rona Maynard thought she understood mental illness—she'd reached the top of her field despite a history of depression. When a talented staffer was felled by a mood disorder, she discovered how little she knew. Rona opens up about where she went wrong and what she'd do differently if she could revisit her toughest leadership challenge. Learn the steps organizations need to take to educate their people and break the silence around mental illness. You'll gain a fresh perspective on one of the most urgent issues in human resources.
Renew, Recharge, Re-imagine: Be your Best Under Pressure
Do you ever wonder how some people stay centered when the heat's on at work, the plumber's running late and the in-laws are coming for dinner? Rona Maynard has been there. Join her for a laugh-filled, myth-busting look at what it takes to stay fresh and focused in the age of multi-tasking. You'll leave with tips you can apply right away to be your best, no matter what's breaking loose all around you.
Success On Your Own Terms: Making Your Dreams Come True
Are you following someone else's route to achievement instead of your own best path? Rona Maynard's career didn't take off until she stopped judging herself by other people's standards and found a new benchmark: her own greatest gifts. Join Rona to discover where your gifts can take you. Learn the question you must ask yourself with every new job or assignment, the surefire way to avoid pointless battles, how to rise above irritations instead of being dragged down, and why part of success is knowing when to move on.
Life-Changing Lessons From Difficult People
Crazy-making people have a knack for sucking up all your energy and power—because you let them do it. Rona Maynard has been there. She has contended with a boss from hell, irate Chatelaine readers, cranky colleagues and rebellious junior staffers—plus some challenging family members. Difficult people became her best teachers, challenging Rona to acquire new skills and confront her own difficult side. After a lifetime of striving to prove she was always right, she learned it was more important to be able to fix what she does wrong. Join Rona for a no-holds-barred conversation about what it really takes to deal constructively with ego-bashers, nay-sayers and your own inner troublemaker.
Your Discovery Years: Finding Joy In Retirement
When Rona Maynard left the Editor's office at Chatelaine after 30 years of full-tilt working, she wondered how to replace what her job had provided: a place in the world, a ready-made social life and a sense of accomplishment. She asked herself, "What on earth am I going to do?" Now she asks a different question: "What will stretch me and teach me and fill me with joy?" Five lessons taught Rona to love her discovery years (otherwise known as retirement). She'll bring each one to life with a surprising story that will light your own way forward and prove the years ahead can be your best yet.
Recent Publications by Rona Maynard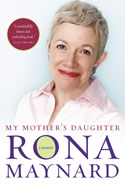 Jackie Eldridge, Co-Chair, Vivacious Leaders Conference:
"Rona's talk was inspiring, funny, highly engaging and filled with great learning. She kept the audience entertained while delivering a powerful message about ways to renew, recharge and re-imagine our lives! I spoke to many of the Vivacious Leaders attendees and each and every one spoke about the ways that Rona inspired them. I highly recommend Rona Maynard as a speaker! Bravo Rona!"
John Brewer, Better Workplace Conference, Conference Board of Canada
"Rona did a wonderful job telling her story and carefully tailoring it to the interests of the audience. Her humanity and compassion shone throughout her presentation and she made a real emotional connection with the audience while providing guidance on the sensitive issue of mental health in the workplace."
Tina Tehranchian, Joy of Aging Conference
"Rona did an outstanding job. Her touching and motivational speech was a resounding success with the audience. The feedback from over 350 women who attended this event was tremendously positive and I highly recommend Rona as a motivational keynote speaker."
Marilyn Cassidy, Women's Business Network of Peterborough
"We couldn't be happier with the feedback we received about the event. Of the evaluations we received 88% rated Rona's presentation as "Excellent". Some comments people noted that inspired them about her speech: "follow your beliefs and dreams do come true", "keep up the hard work, it's not the time to quit", "having such a high profile speaker as Rona Maynard was excellent". Her keynote was the perfect way to start our day."
Andrea Swinton, Canadian Psychiatric Research Foundation
"Rona took the time to customize a speech that would meet our organizational objectives and that would also connect with our audience in an impactful manner. Her time and effort were reflected in the reaction of the audience - people laughed and cried throughout her presentation and she received a standing ovation. We received a great deal of positive feedback about Rona's presentation and have used it as the benchmark for future speakers."
Lorraine Dyke, Carleton University
"Humorous, relevant and inspiring. Rona's message resonated strongly with our participants. She was an ideal speaker for the 20th anniversary celebration of our Management Development Program for Women."
Big Brothers/Big Sisters of Peel
"She was inspirational, touched everyone in the room. She was articulate, charming, warm, inviting, and totally wonderful. The feedback was terrific - we could not have done better!!!!
B.C. Women's Hospital Foundation
"The audience was completely captivated and deeply touched by your speech. One of my favorite parts was when you said, 'Every night before falling asleep, I would give thanks for the best moment of my day."