Bryan Mudryk
TSN Broadcaster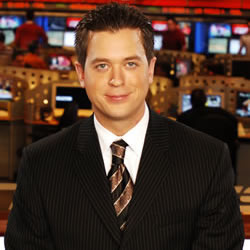 Prior to joining TSN in October 2005, Mudryk spent four years anchoring and reporting sports for CTV Edmonton on the weekend and late night news editions (2001 to 2005).
Born in Athabasca, Alta. and raised in nearby Boyle, AB - population 850, and hometown of fellow SportsCentre host Jay Onrait - Mudryk's broadcasting career began in Lloydminster, AB at CKSA TV and Radio as a reporter. From there, he moved to Winnipeg to anchor the weekend and late night sports segments for A-Channel.
During his broadcasting career, Mudryk has interviewed such sports legends as Jack Nicklaus, Mike Weir and Wayne Gretzky, covered the Heritage Classic at Commonwealth Stadium and the 2002 Grey Cup, the 2004 Brier in Saskatoon, the 2009 Brier and curling at the 2010 Winter Olympics. In 2012, he was the judo play-by-play announcer for the London Olympics.
Mudryk, a cancer survivor, was instrumental in launching a charity golf tournament to raise funds for Edmonton's Cross Cancer Institute. In three short years, the annual Bryan Mudryk & Friends Charity Golf Classic has raised more than $100,000 for cancer treatment equipment.
Speakers Like Bryan Mudryk
Check Speaker Availability and Pricing
"*" indicates required fields