Ben Webster
Adventurer, Five-time Everest Summitter and Expedition Leader.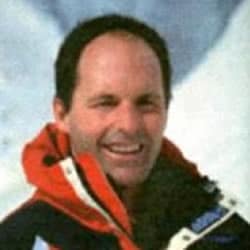 Ben Webster is one of the world's most accomplished expedition leaders. In a career spanning over 25 years of high adventure, he has led over 30 major adventure expeditions in five continents. He is also an acclaimed speaker, television producer, documentary filmmaker, and photojournalist.
Among his notable undertakings, Ben has led 5 multimedia expeditions on Mount Everest where he has not only reached the summit but also produced the first live broadband television broadcast from the mountain back to North American networks. During his Everest campaigns, Ben has shot and produced for networks around the world including ABC, RDS, Discovery Channel, CTV, and RDI in France.
In 2003 and 2004, he mounted the Discovery Channel Expedition to Mount Everest where he shot and produced the critically acclaimed six-part mini-series "Everest: Ultimate Survival." In 2005, Ben returned to Everest to produce video transmissions for an interactive educational initiative involving Canadian school children and Algonquin College. In 2006/07 Ben led Expedition Africa, a six month educational and media odyssey that traversed the length of Africa from Cairo to Cape Town. Here Ben and his team acted as foreign correspondents on the successes and failures of the African continent. In 2008, Ben produced and shot an emotionally charged documentary on six breast cancer survivors attempting to reach the roof of Africa. The documentary titled "Kilimanjaro: The Meaning of the Mountain" was commissioned and filmed for the Documentary Channel.
Ben also spent four years as an adventure consultant for the Indian government. As an international kayak instructor, river, and mountain guide, Ben spent a decade travelling down rivers and climbing mountains. From the barren tundra of the Artic Circle to the steamy jungles of Borneo and all points in between Ben has literally 'been there and done that.'
Ben's business presentations are developed around the theory that climbers don't conquer mountains... conquests occur within the mind of the climber and the business person. Ben's message shows audiences how to penetrate self-imposed barriers of fears, doubts and limitations, which prevent individuals getting through to the potential that lies within.
In 2013, CBC and the Documentary Channel will air March to the Top, a compelling documentary following 12 Canadian vets wounded in Afghanistan on an expedition led by Ben to summit Island Peak, a mountain near Everest.
- Read More -
Speakers Like Ben Webster
Check Speaker Availability and Pricing
"*" indicates required fields
It's Not Over Until You Reach The Top
Attitude Makes the Difference