Yan Markson
Virtual Keynote Speaker
Virtual Speaker, Mindhacker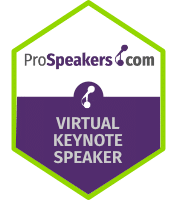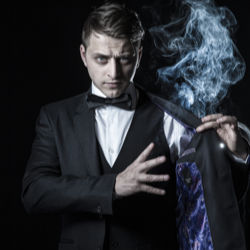 For many years Yan Markson lived a double life. 
A professional mentalist performing for the biggest companies in North America by one name, and a VP of marketing and communications for an award-winning AI software company by another name.
He has built a unique perspective on "The Power of Perception", influence, branding and communication.
Yan captures the attention and imagination of the audience with powerful and interactive mentalism, and uses this to illustrate the inner workings of a person's perception and decision-making process.
His presentations and workshops explore the world of "Mind Hacking". The art and science shared by mind-magic, sales, marketing, and branding.
Speakers Like Yan Markson
Check Speaker Availability and Pricing
"*" indicates required fields
Check Availability for Yan Markson
The Power of Perception
In this session Yan performs mentalism effects to demonstrate how perception can be tricky. The presentation spotlights insightful lessons from the science behind how we perceive things and make decisions.
Yan outlines specific techniques and 'mindhacks' based on behavioral economics and cognitive biases that improve your ability to influence and persuade.
This entertaining and educational presentation features specific resources viewers can leverage to learn more about how they can improve their communication skills for sales and marketing purposes.
Unlock Creativity in the Digital Age
Today's digital transformation is changing our lifestyles, roles in the workplace, and career paths. With these changes come both new challenges, threats, as well as opportunities and new ideas.
As the world continues to evolve it's becoming clear that one of the most valuable assets an individual can have in both their personal life and their profession is creativity.
After all, even the world's smartest Machine Learning and Artificial Intelligence engines are inferior to the power of human creativity. Creativity leads to new and better solutions, improved efficiency, greater cooperation, effective communication, and a more positive mindset.
Yan explores the cognitive biases that lock people into status quo and limited perspectives, and breaks down how participants can identify, avoid them, while harnessing creativity and innovation.
Interactive Workshop
In addition to Yan's presentations, clients have the opportunity to add an interactive workshop after the session. Each participant will receive items that they will use to learn magic and mentalism effects they can immediately perform for their team, family and friends. This workshop breaks people out of their routine and shows them how magicians can think outside the box.
Also companies have the ability to brand these items, and since the audience will be taught mentalism and magic effects with these items, they are very likely to keep them for a long time and remember your event.
"We engaged Yan to entertain us remotely and he was fun, magical and ended his show on such a warm positive message.  We hired him again for another group in the firm and received such positive feedback from employees who attended.  Thank you Yan, great transition to keep us connected!"
BDO Canada
"Yan presented at a national conference in front of over 750+. Everyone was on the edge of their seat and completely captivated from start to finish. My team couldn't believe he managed to get everyone so engaged. His message was highly motivational with very specific action items that can be implemented in our communication and sales approach. We've received overwhelmingly positive feedback so far and look forward to working with Yan again in the future."
TD Bank
"We had Yan in for our company and he was fantastic. I work in a sales environment so it can be difficult to hold the attention of our group. Yan did this no problem and knocked our socks off with his show. On top of this, he was very flexible and easy to work with. Would highly recommend Yan."
IFG Financial
"Yan performed magic and mentalism AND served as an MC for our 2019 Awards Gala in Niagara Falls! He performed on stage in-between award presentations featuring members from the audience. Everyone was totally impressed and completely astounded! We kept talking about his tricks long after the show! He was incredibly flexible in meeting our demands, even helping promote the event in the days leading up to it. Yan, it was so wonderful working with you and thank you for making our event a massive success."
REIC National
"Highly recommended!  We hired Yan for our company year-end event and couldn't be happier for how the event went. Yan kept the laughs going with his tasteful and witty humour while at the same time was thought provoking and mesmerizing with his unbelievable mind control and illusions.  We received lots of positive feedback from our staff about his performance after the show and I would highly recommend him for anyone looking for a great entertainer!"
KLM Planning