Sami Jo Small
Three-time Olympian and Motivational Speaker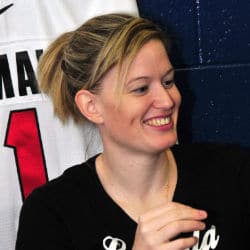 Sami Jo Small grew up on the outdoor hockey rinks of Winnipeg, MB. Her passion for the game was honed in the boys' minor hockey system. As the only girl she was forced each and every day to prove that she belonged through hard work and determination. She dreamt, like her teammates, of someday playing in the NHL, but also dreamt of someday stepping on to the podium at the Olympic Games.
She accepted a scholarship to Stanford University for track and field to throw the discus and javelin. Her dream of participating in the Olympic Games flourished until injury plagued her career and she consoled her feelings of failure by returning to the game she grew up loving. Hockey became her passion again as she played on the Stanford Men's team even garnering PAC-10 MVP honours while earning her degree in mechanical engineering.
Her childhood dream became a reality when she accepted a spot on the 1998 Olympic Games team traveling to Nagano, Japan. Women's hockey was on the rise and Sami Jo was a huge part of its success. She has since won five World Championships and has twice been named Championship MVP. She is a three time Olympian and has been a member of two Olympic Gold Medal Winning teams.
Sami Jo currently works as a motivational speaker as well is an owner of a hockey school. After 22 years of playing hockey at the highest level, she was recently the General Manager of the women's professional hockey club, the Toronto Furies of the Canadian Women's Hockey League.
Speakers Like Sami Jo Small
Check Speaker Availability and Pricing
"*" indicates required fields
Appearances
Bring the excitement of the NHL and the cache of a NHL celebrity to your events, golf tournaments or corporate dinners by having Mike Babcock act as your host, emcee or engage in a meet and greet.  As a local native to Manitouwadge, Ontario, his ties to his community, success in the big leagues and his compelling, personal stories make Mike Babcock a great speaker, as well.
Hockey Stories - Life in the NHL
What's it really like to run a professional NHL team?  Look behind the boards to hear tales from the bench, locker room and about the players themselves.  This unique insight will provide you with lessons on goal setting, the winning edge sprinkled with humor and stories that you won't hear anywhere else!
Leadership
What does it take to win a Stanley Cup?  Success in the NHL parallels success in business.  Learn from the greatest sports leaders today on how they lead their business and, as importantly, deal with setbacks to refocus on meeting their end goals. 
Motivating Millennials
One of the hottest debates today is "How do you motivate Millennials to drive your business forward?"  Hear from one of the best NHL Coaches, who take a different group of Millennials each year and motivate them to the reach their highest performance both individually and as a team.
"The power of belonging to a team really shone through as Sami Jo shared her life challenges. I've seen a lot of speakers and few compare with what she delivered. The speech was well constructed and Sami Jo connected with the audience during her delivery. I was most impressed by her vulnerability and sharing of the not so glamorous struggle in making a decision to put the needs of the team ahead of her own. Sami Jo moved me to tears through her authenticity. The message was powerful. I recommend Sami Jo Small as a professional keynote speaker." Connie Bird, Life is Sales