Mike Robitaille
Company reputation and social momentum. The next way to win.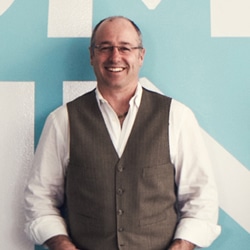 Selling stuff is no longer enough. As internet transparency and social media organization shift power away from corporations, traditional branding and selling is becoming less effective. There is a new pattern to follow.
The relationship between leadership, social movements and commerce is the defining motivation in Mike's career. He has worked in Marketing at Labatt Breweries, at multinational ad agencies and founded the fastest growing ad agency in Canada. Today he is committed to helping business leaders create the ultimate competitive advantage - more people cheering for their companies to win – through his firm Isaac Reputation Group.
Great companies and leaders garner support and enthusiasm because they play an instrumental role in helping people toward equality, family, freedom, self-respect or one of fourteen other human ideals. Companies that lead us toward a human ideal for a good life or better world are the ones people watch, follow and actively promote.
The pursuit of a human ideal is at the root of every significant movement in social and commercial history. We want our lives to be better and will throw every ounce of available energy behind those people, companies and organizations we believe can get us there.
That enthusiasm is the greatest competitive advantage a company or any social movement can possibly have. When people want you to win, you become very hard to beat.
Speakers Like Mike Robitaille
Check Speaker Availability and Pricing
"Mike helps deliver that Holy Grail advantage for companies: more people cheering for it to win."
President & CEO, Freedom Mobile