Jon Duschinsky
Fundraiser, Philanthropy & Change Expert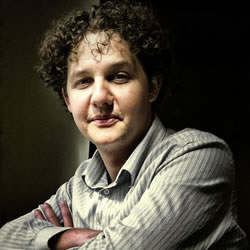 At the age of 21, Jon Duschinsky co-founded the Cascaid agency in the UK. He later became head of fundraising for France's largest AIDS organisation (Sidaction), then took on the challenge of being the first ever Director of the French Institute of Fundraising. For much of the last decade Jon has been involved in pushing the social innovation agenda and envelope across Europe.
In 2008, Jon founded a global strategic agency that activates causes for organizations and companies alike. He is the author of "Philanthropy in a Flat World" (2008), and the upcoming "(me)volution" (2012).
A celebrated speaker at high-profile international events around the world, Jon's client list includes the Association of Fundraising Professionals, Canadian Cancer Society, WorldVision Global Marketing, International Fundraising Conference, International Philanthropy Festival, Mental Health Corporations of America, PLAN International and many others.
Jon is a global leader in marrying social profit with financial profit. His radical and inspirational futurology paints a vivid picture of tomorrow's businesses as fully integrating social value at every level of their work. To hear Jon speak is to understand how the worlds of social change and making money are coming together. His visionary sessions are both inspirational and empowering, leaving his audiences with the tools they need to ready their businesses for tomorrow.
Jon recognizes that people are the most powerful force for driving change in this world. This recognition has given rise to a career dedicated to harnessing that power to activate causes around the world. Though this sounds like no easy task, Jon will assure you, there has actually never been a better time to change the world than now. Better still, he can prove it.
- Read More -
Speakers Like Jon Duschinsky
Sally Armstrong
Amnesty International Award Winner, Order of Canada Member, Filmmaker, Author, Human Rights Activist
Scott Campbell
Employee Engagement and Strategic Leadership Expert
Check Speaker Availability and Pricing
Finding Your People Power
People today have more power to drive change in the world than ever before in history. We've seen what this new-found power means in the political sphere and the social sphere, but what does this mean for your business?
Conversation Capital™: Are you really worth talking about?
Everyday, people are engaging in billions of conversations about their experiences with companies, brands, causes and people. The question is: how do you get them to talk about you?
Be the Change
It's more than a tagline. It's a new way of understanding how to drive change in this world.
"If you want to understand philanthropy, if you want a rare glimpse into the art of fundraising, or if you want to be charmed out of your pocketbook for causes great and small, Jon is your man." Stephen Lewis, Stephen Lewis Foundation

"Anyone who sees Jon in action recognizes his energy and vision; what they don't always see is the rigour and the intellect behind the performance. Jon has a great empathy for the people and causes that he touches. Above all else, he makes connections - thinking laterally - broadly - drawing on his experience on the global stage and applying it for all our benefit." President & CEO, Association of Fundraising Professionals

"Global, forward thinking, new ideas, new resources, group participation.... perfect!" MHCA Conference

"Jon, we want to personally thank you for your contribution to a successful meeting. Working with you has been such a pleasure. Planning our session was simple and headache-free, and your delivery on-site absolutely hit the mark. Your presentation style is rehearsed, polished, dynamic, engaging, thought-provoking and envelope-pushing." VP, Child Health Corporation of America

"Outstanding presentation! Bring him back again and again!" AFP Toronto Fundraising Day
"Jon inspires you to think bigger. He brings to bear his international experience and global vision to set the stage for a new generation of fundraising that goes beyond technique. He supports you in holding up a mirror to your organization and challenging you to take ownership of the change you want to be in the world. With passion, dedication and authenticity, he then commits to ensure you achieve it." VP Development and Marketing, Canadian Cancer Society