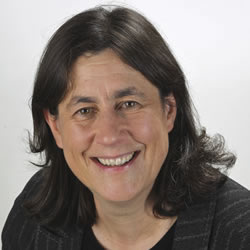 Chantal Hébert is a regular participant in television and radio current affairs shows in French and in English. Prior to taking her position, Hébert worked as the Montreal correspondent for the Toronto Star from February 1999 to September of the same year. She started her career in 1975 in Toronto working for Radio-Canada television news.
She has served as parliamentary bureau chief for La Presse and Le Devoir as well as a parliamentary radio correspondent for Radio-Canada.
Hébert is the 2005 recipient of APEX's Public Service Citation as well as the 2006 recipient of the Hyman Solomon award for excellence in journalism and public policy.
She is a Senior Fellow at Massey College, University of Toronto. As part of the Asia Pacific Foundation Fellowship program, she has traveled extensively to Japan, South-East Asia and Hong Kong.
Hébert penned her first book, French Kiss: Stephen Harper's Blind Date with Quebec (Knopf Canada, Feburary 2007), as both a post-mortem of the Canadian federation that died on January 23, 2006, the night of the last federal election, as well as a brilliant examination of our changing political future, one that involves living with Quebec rather than just wooing it. Chantal Hebert is at her savvy and insightful best in French Kiss. No Canadian can be truly informed on the subject of Canadian politics without the benefit of her non-partisan commentary.
Born and raised in Ontario, Hébert was educated at Glendon College, York University and the University of Western Ontario.
- Read More -
Speakers Like Chantal Hebert
Jeffrey Simpson
Author, Journalist, TV personality, Member of the Order of Canada
Sally Armstrong
Amnesty International Award Winner, Order of Canada Member, Filmmaker, Author, Human Rights Activist
Check Speaker Availability and Pricing
Recent Publications by Chantal Hebert

French Kiss