Jeffrey Simpson
Author, Journalist, TV personality, Member of the Order of Canada.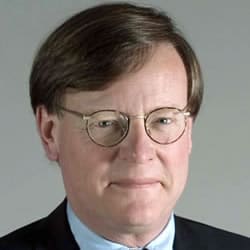 Jeffrey Simpson, The Globe and Mail's national affairs columnist, has won all three of Canada's leading literary prizes -- the Governor-General's award for non-fiction book writing, the National Magazine Award for political writing, and the National Newspaper Award for column writing (twice). He has also won the Hyman Solomon Award for excellence in public policy journalism. In January, 2000, he became an Officer of the Order of Canada.
Born in New York, Mr. Simpson came to Canada when he was 10 years old and studied at the University of Toronto, Queen's University and the London School of Economics.
His career with The Globe and Mail began at City Hall in Toronto and with coverage of Quebec politics. In 1977, he became a member of the paper's Ottawa bureau, and eighteen months later he was named The Globe and Mail's Ottawa bureau chief. From 1981-1983, Mr. Simpson served as The Globe's European correspondent based in London, England. He began writing his national affairs column in January, 1984.Mr. Simpson has published eight books -- Discipline of Power; Spoils of Power; Faultlines, Struggling for a Canadian Vision; The Anxious Years; Star-Spangled Canadians; and The Friendly Dictatorship: Reflections on Canadian Democracy, Hot Air: Meeting Canada's Climate Change Challenge, and most recently, Chronic Condition: Dragging Canada's Health-Care System into the 21st Century.
He has written numerous magazine articles for such publications as Saturday Night, The Report on Business Magazine, The Journal of Canadian Studies, The Queen's Quarterly. He has spoken at dozens of major conferences here and abroad on a variety of domestic and international issues. He has also been a regular contributor to television programs in both English and French and completed a two-hour documentary for CBC to accompany his book, Star-Spangled Canadians. He has been a guest lecturer at such universities as Oxford, Edinburgh, Harvard, Princeton, Brigham Young, Johns Hopkins, Maine, California plus more than a dozen universities in Canada.
In 1993-1994, Mr. Simpson was on leave from his column as a John S. Knight fellow at Stanford University in Palo Alto, California. He has been a Skelton-Clark fellow and Brockington Visitor at Queen's University. He has also been a John V. Clyne fellow at the University of British Columbia, a Distinguished Visitor at the University of Alberta and a member of the Georgetown University Leadership Seminar. He has been awarded honorary doctorates of laws from the University of British Columbia, the University of Western Ontario, the University of Manitoba, King's College (Halifax), l'université de Moncton, Queen's University and the University of Windsor.
Mr. Simpson has been a member of the board of trustees at Queen's University; the board of overseers at Green College, University of British Columbia; the advisory councils of the Robarts Medical Research Institute and the Richard Ivey School of Business at the University of Western Ontario, and the editorial board of The Queen's Quarterly. He has been vice-chairman of the City of Ottawa Library Board and was awarded the William Watkinson Award for outstanding contributions to the Canadian Library community.
Mr. Simpson has taught as an adjunct professor at the Queen's Institute of Policy Studies and The University of Ottawa Law School. He is now senior fellow at the University of Ottawa's Graduate School of Public and International Affairs. He is also a member of the Uuniversity of Ottawa Board of Governors executive committee.
Mr. Simpson was a juror for the Charles Taylor Prize for non-fiction books in 2008 and for the Cundill prize for history in 2011 and 2012. He is also a member of the Trilateral Commission.
He lives in Ottawa with his wife Wendy. They have three children.
- Read More -
Speakers Like Jeffrey Simpson
Check Speaker Availability and Pricing
HOT AIR: Fixing Canada's Climate Change Catastrophe
Many presentations on energy and climate change are: (a) terrifying or (b) academic or (c) quirky, advocating a single, neat solution likes solar or wind power, or a population on bicycles. This presentation is different. It starts with an alarming brief description of the climate threat to Canada. Then it shifts to an equally alarming description of how Canadians have been betrayed by their politicians ("We're working on it!"), their industrialists ("Things aren't that bad, really, and voluntary guidelines will be good enough."), and even their environmentalists ("Energy efficiency can be profitable, and people can change their lifestyles, no problem!"). All of this, of course, reinforces the myths that forceful policies are not needed. Having summarized the situation, and the trends we are facing, Hot Air then lays out in convincing and easily understandable terms the few simple policies that Canada must adopt right away in order to significantly reduce greenhouse gas emissions over the next few decades. It shows how these policies can be designed to have minimal negative effects. It even provides results from a highly credible energy-economy model that has been used internationally by many authorities, including the most advanced think tanks, to assess the full economic impacts of different policies. With evidence from other countries that are successfully addressing climate change, Hot Air shows why these are the only policies that will work -- and why this is a matter of life and death for us all.
Chronic Care:
Canadian Health Care - the current reality, the challenges and suggested solutions. Using accessible language, this presentation explains the history of Medicare, indicates how it compares internationally, illustrates what it's doing to public finances, debunks the half-baked ideas for reforming it, and suggests some big, but doable changes that might achieve the two most important objectives: improve quality and reduce the increase in health care expenses.
How do We Make the Canadian Economy More Competitive?
What's Doing in Politics?
Where Should Tax Policy Go?
Why Does Canada's Economy Lag that of the United States?
Recent Publications by Jeffrey Simpson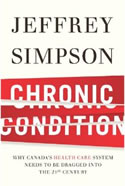 Chronic Condition: Why Canada's Health Care System Needs to be Dragged into the 21st Century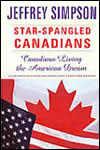 Star Spangled Canadians: Canadians Living the American Dream
The Friendly Dictatorship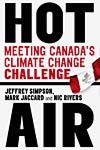 Hot Air: Meeting Canada's Climated Change Challenge
"I would be remiss if I did not pass on to you the overwhelmingly positive reaction to your presentation. By the end of the poultry-oriented business sessions the members were saturated with industry-specific panels and speakers. It is therefore refreshing for them to hear from someone such as yourself, with insightful views into the Canadian political situation. Both your materials and your delivery were excellent and you can be proud of a job well done." Canadian Poultry and Egg Processors Council
"It was a great talk!  He was witty, funny and really engaging.  The feedback from the group has been very positive."
"Your presentation was very well received and [was] valuable to the participants, who wrote that you were "Very engaging."
"First Class.  Major message for the system that could lead to necessary changes." 
"Very provocative."
"Worth the price of admission to the Summit!" Summit on Sustainable Health Care