Cassie Campbell
Captain of the Gold Medal Canadian Women's Hockey Team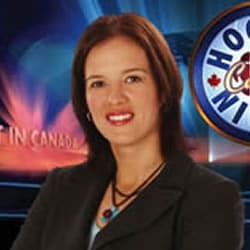 At age five, Cassie Campbell laced up her first pair of skates. Twenty-eight years later, she is a heroine of Canadian sport, as captain and a forward for the Canadian Olympic Hockey Team. Cassie is a twelve-year veteran of the team, which she led to victory at both the 2002 Winter Olympics in Salt Lake City and the 2006 Torino Winter Olympics.
Bold, dynamic, and passionate, Cassie draws on her accomplishments as the captain of the gold-medal winning Canadian Women's Olympic Hockey Team to explore the themes of leadership, teamwork, and motivation.
Cassie Campbell is the only captain, male or female, to lead Canada to two Olympic gold medals. When Cassie Campbell was dressed for Team Canada, her team had a 129-26-2 record. She was Captain of Canada's National Women's Team from 2001 to her retirement in 2006, which made her the longest serving captain in Canadian hockey history. Cassie Campbell was an alternate captain with Canada's National Women's Team from 1997-2001, receiving this honor just prior to her second World Championship appearance.
Campbell led her team to Canada's first Gold medal in hockey in 50 years, at the 2002 Winter Games in Salt Lake City. Her athletic credentials are exceptional; she won 21 medals with Canada's National Women's teams, including 17 gold medals and four silver medals. She won two Olympic gold medals (2002- Salt Lake City and 2006 - Turin, Italy), and one Olympic silver medal (1998 - Nagano, Japan). A six-time World Champion gold medallist (1994, 1997, 1999, 2000, 2001 and 2004), She also won silver at the 2005 Worlds.
Cassie holds an Honours Sociology Degree from the University of Guelph. In 2007, Campbell was inducted into the Alberta Sports Hall of Fame, and was the first female hockey player to be inducted into Canada's Sports Hall of Fame. She is currently working for TSN and CBC's Hockey Night in Canada and is writing two books: HEART and Some Things I Have Learned.
Her focus on determination and teamwork shines as she speaks of her gold medal performances and those of her team who "didn't stop believing in one another." A lively, passionate, and engaging speaker, Cassie Campbell knows firsthand about the key roles that teamwork, determination, and great leadership play in challenging times.
- Read More -
Speakers Like Cassie Campbell
Check Speaker Availability and Pricing
"*" indicates required fields