Yung Wu
CEO of MaRS Discovery District and Innovation Leader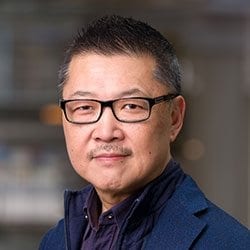 Yung Wu is at the forefront of technological and entrepreneurial innovation as the CEO of the MaRS Discovery District, one of the world's largest and most impactful innovation hubs. Under his leadership, MaRS has become a beacon in Canada's science and technology sector, contributing significantly to the country's GDP and supporting a vast number of jobs across various industries.
Yung's journey as a serial entrepreneur and investor spans diverse fields including enterprise software, mobile analytics, big data, media and entertainment, technology services, and biotechnology. His vision and expertise have not only fueled the growth of scale-stage companies but also nurtured meaningful community contributions through co-founding non-profit organizations like the Coalition of Innovation Leaders Against Racism (CILAR) and DifferentIsCool (DiSC).
Serving on multiple prestigious boards and recognized as a top business leader in Canada, Yung's academic background from the University of Toronto and MIT, along with his memberships in MENSA, YPO, and ICD.D, solidify his status as a thought leader and innovator.
Contact ProSpeakers.com to hire Yung Wu to speak to your next event.

Jim Carroll
Futurist, Trends, Creativity and Virtual Innovation Expert
Salim Ismail
Renowned Virtual Technology Strategist
Check Speaker Availability and Pricing
"*" indicates required fields
Check Availability for Yung Wu
Navigating the Innovation Ecosystem: Lessons from MaRS
In this enlightening talk, Yung Wu shares his insights from leading the MaRS Discovery District, illustrating how fostering a vibrant innovation ecosystem can drive significant economic and social growth. He delves into strategies for nurturing start-ups and scale-stage companies, emphasizing the importance of interdisciplinary collaboration in health, cleantech, fintech, and critical technologies. Yung's talk is an essential guide for entrepreneurs, investors, and policy-makers looking to replicate MaRS' successful model in their own contexts.
The Entrepreneur's Journey: Building Breakthrough Companies
Drawing on his extensive experience as a serial entrepreneur, Yung Wu offers a roadmap for building successful companies in diverse sectors. He explores the challenges and triumphs of the entrepreneurial journey, focusing on enterprise software, big data, and biotechnology. Yung provides practical advice on navigating the complexities of scale-stage growth, leveraging his insights to help budding entrepreneurs understand the critical elements of innovation, market adaptation, and sustainable business practices.
Leadership for a Diverse Future: Fostering Inclusivity in Tech
Yung Wu addresses the crucial role of inclusivity in the technology sector. He highlights his work with CILAR and DiSC, demonstrating how leaders can create more equitable and diverse environments within their organizations. This topic is vital for CEOs, HR professionals, and team leaders striving to build a culture that embraces diversity as a cornerstone for innovation and success. Yung's speech offers actionable strategies and inspires a commitment to fostering a more inclusive future in the tech industry.
AI and Emerging Technologies: Transforming Business Landscapes
In this insightful presentation, Yung Wu delves into the transformative impact of AI and emerging technologies on the business world. He examines how artificial intelligence, coupled with innovations in fields like big data and mobile analytics, is reshaping the way companies operate and compete. Yung provides a clear overview of the current tech landscape, highlighting key trends and potential impacts on various industries. His talk is crucial for business leaders and entrepreneurs seeking to stay ahead in a rapidly evolving digital era, offering guidance on integrating new technologies and preparing for future shifts in the market.
Where does Yung Wu travel from?
Yung Wu travels from Toronto, Ontario Canada.
What topics does Yung Wu speak on?
Yung Wu specializes in a variety of topics, including innovation ecosystems, entrepreneurial journeys, and the impact of AI and emerging technologies on business.
What is Yung Wu's speaking fee?
Yung Wu's fee for speaking engagements ranges from $20,000 to $30,000 CAD plus travel. For a firm quote contact [email protected] for a quote.
How long is Yung Wu's typical keynote speech?
Yung Wu's keynote speeches typically last between 45 to 60 minutes, but this can be adjusted to meet the specific needs of your event.
Does Yung Wu offer Q&A sessions after his talks?
Yes, Yung Wu is available for Q&A sessions following his talks. These sessions provide a great opportunity for deeper engagement with the audience. The questions can be customized to answer your specific corporate questions.
Is Yung Wu available for panel discussions and workshops?
Yes, in addition to keynote speeches, Yung Wu is available for panel discussions, guided conversation and interactive workshops, where he can delve more deeply into specific topics.
Can Yung Wu tailor his presentations to specific audiences or themes?
Absolutely, Yung Wu is skilled at customizing his presentations to align with the specific themes, goals, and audiences of different events.
What are some of Yung Wu's notable past speaking engagements?
Yung Wu has spoken at a variety of prestigious events and organizations, showcasing his expertise in innovation, technology, and leadership.
What technical requirements are needed for Yung Wu's presentations?
Yung Wu typically requires standard audio-visual equipment for his presentations, including a microphone, projector, and screen. Specific technical requirements can be discussed during the booking process.
How can we book Yung Wu for our next event?
To book Yung Wu for your next event, contact Heather @ ProSpeakers.com at 416 420 4525. They will provide you with all necessary information, including availability, booking procedures, and any additional details required.