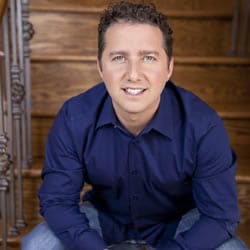 Book Marc Saltzman
Add to My List
Marc Saltzman has reported on the high-tech industry since 1996 as a freelance journalist, author, lecturer, consultant, and radio and TV personality. His specialties lie in consumer electronics, computers, Internet trends, small-to-midsized business technology and interactive entertainment.
With nearly 30 speaking engagements in 2013 alone, Marc is one of the busier technology experts on the circuit. Speaking across North America on a wide variety of topics, he enjoys talking to groups big or small, consumer- or business-oriented, and ranging from kids to seniors. Along with delivering keynotes, Marc also enjoys moderating panels, delivering seminars and hosting lunch n' learns for smaller crowds.
In June 2006, Marc was invited to join celebrities such as Donald Trump, Al Gore and Stephen Hawking to answer a question for the "Ask The Planet" promotion sponsored by Yahoo! Answers; he was tapped as a leading consumer technology expert.
Marc has written 15 books, his most recent publication being Siri for Dummies. Marc also writes weekly syndicated columns with Gannett, the USA's largest newspaper group, and currently contributes to more than 50 other prominent publications including: USA Today, USA Today.com, USA Weekend, Yahoo! (U.S. and Canada), CNN.com, AARP - The Magazine and The Toronto Star.
He also contributes to numerous blogs, including USA Today's Technology Live!, Yahoo!'s Digital Crave and The Loop. He was one of the first journalists in the world to break open the MP3 phenomenon in late 1997 on CNN.com. He correctly predicted this controversial audio file format would revolutionize the recording industry.
Marc writes and hosts "Gear Guide," a technology-focused video that runs nationally across Canada at Cineplex Entertainment movie theaters, IMAX theatres and various sister chains. In May of 2001, Marc became a frequent technology expert at CNN, the Cable News Network. Over the years, Marc has discussed a wide variety of tech trends, news and reviews on shows like; CTV's Canada AM morning show, CP24 and has made appearances on NBC's "Today Show," "CBS Early Show," "Access Hollywood," "Entertainment Tonight" and QVC's Saturday Q." He writes and hosts two "Tech Talk" radio shows and has been interviewed on NPR, CNN Radio and Martha Stewart Radio.
Marc is on the board of Kids, Cops and Computers (kidscopscomputers.org), a Toronto-based charity that provides Internet-connected computers and accessories to students in financially-challenged neighborhoods - along with an "e-buddy" (police officer) to correspond with. Marc is one of the Game Critics Awards judges for the annual Electronic Entertainment Expo (E3), a moderator on panels at the Consumer Electronics Show (CES) and a former judge for the annual Spike TV Video Game Awards and Codie Awards
- Read More -
Speakers Like Marc Saltzman
Kerry Munro
Internet Leader and Digital Marketing Expert
Hot Tech Trends & The Future of Technology
Marc discusses the latest gadgets, social media, video games, the Internet, etc. Gadgets can include products and services related to televisions, home theatres, computers and accessories, digital photography, smartphones, GPS, mobile media players, e-book readers, and so on.
Getting the Dream Job - Living the Life You Love
By sharing his own unique story, Marc enjoys speaking to the youth of today about finding their passions, how to succeed in business right out of school and how doing something you truly love to do is the way to prosper. His encouraging story is a true testament of these insights in his current position as a freelance journalist, author and broadcast specialist. Quite familiar with the multi-billion dollar interactive entertainment industry, Marc is also well-versed on developing game patents, protecting your invention, and working as a developer.
Internet Safety Tips For Kids and Parents
Whether the audience is made up of kids or parents, Marc can speak about how to best protect kids in cyberspace. Parents can often feel helpless because the kids know more than mom and dad in some situations. For kids, Saltzman addresses items like "Texting Do's and Dont's" and "10 Tips to Safe Facebooking." For parents, he advises child-proofing Internet tips and tricks (in plain English).