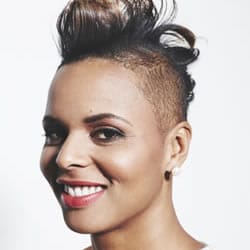 Karina LeBlanc moved from a small island in the Caribbean to Maple Ridge British Columbia at age 8. So at an early age, she was thrust into a new country with different customs and culture. Karina was a smart, shy child with a vibrant personality buried within. It wasn't until she met some local coaches who invited her to the track and field club and basketball team that her confidence rose and allowed her personality to shine. Soon after others would also notice a change in her confidence. This confidence enabled Karina to pursue a college education, play soccer for her country for almost 18 years and win a Bronze Medal at the 2012 Olympics.
After the World Cup in 2015, Karina finally decided it was time to hang up her cleats and explore her greater purpose. Being the all-time longest-standing soccer player for Canada (5 World Cups and 2 Olympic games), she would no longer be Karina LeBlanc the soccer player, but now Karina LeBlanc the person seeking to explore her new meaning in life. For Karina, soccer was more than just a sport she played, it allowed her to gain confidence and realize that her voice is for a reason, which led her to become a UNICEF ambassador.
Using her international sport career as a base, she empowers others and helps them on their journey to be the best version of themselves. Karina has spoken to audiences of up to 22,000 people from children to corporate professionals, including the United Nations General Assembly. Her energy is contagious. She loves to ensure that everyone around her truly enjoys what they're doing. She thrives on bringing the best out of people, getting them excited, and getting them involved in every aspect of what's going on both on or off "their field".
Speakers Like Karina LeBlanc
Corporate:
Karina's high performance way of thinking and mental resilience is the springboard for her corporate speaking engagements. She has the unique ability to relate to people on a personal level as she shares her successes and failures along with her strong belief that behind every failure comes your greatest successes.
Team work and team building skills
Holding ourselves and each other accountable
Being creative and taking risks
Working towards finding a collective goal
Understanding who you are as a company
Leadership
Connecting to something larger than yourself
General Adult Audiences:
General Adult Audiences:
Karina is a captivating presenter who speaks straight from the heart, encouraging her audience to believe in the ability to shift their way of thinking.
Living a purposeful life
The 48-hour challenge to be the best version of you, everyday
We all have a purpose here on earth. What is yours? Are you living it?
Leaving the world on E for Empty
Being creative and taking risks
Working towards finding one collective goal and dream
Kids:
Karina's message to children is to connect to the essence of what will take them from special to great! That passion + courage + purpose enables them to dream big! To motivate them to work harder and smarter than anyone else and to believe in themselves!
"That speech was so moving Karina! We can't thank you enough for believing that your best version of yourself means doing all you can to help the children & families who need it most" UNICEF Canada
"Your huge heart speaks louder than the words you write. Thank you for being so kind, generous and open". Karen Pinter
"Sometimes life brings us something useful at just the right time and hearing you speak about purpose and being your best self is something really helpful to me right now". Danielle Moffat
" Karina is unbelievable!! She is so generous with her time, so genuine and down to earth. Multiple participants mentioned that she was the best speaker they have ever heard at any conference. She made an immeasurable impact on all participants and will be fondly remembered always." Sysco Foods