John Haime
Professional Experience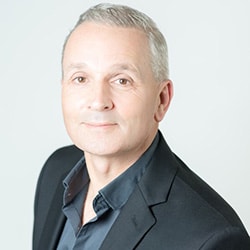 John Haime is a Human Performance and Leadership Coach who prepares leaders and teams to be their very best by helping them tap into the elusive 10% of their abilities that will elevate them to the top. This is something that anyone with a goal craves and John Haime knows how to get performers there. John closes the gap for performers in business, sports and the arts taking them from where they currently are to where they want to go.  The best in the world trust John. They choose him because he doesn't just talk about the world of high performance and leadership – he has lived it and lives in it everyday.
John is a former Tournament Professional Golfer with professional wins. He has a best-selling book "You are a Contender" that is widely read by world-class athletes, coaches and business performers. He has coached leaders and teams around the globe for some of the world's leading companies. Athlete clients include performers in the major professional sports leagues and who regularly rank in the World Top 50 in their respective sports. Professional athletes, coaches and agents call on John to support & raise the level of their athletes.  John has the rare ability to work as seamlessly in the world of professional/high level sports as he does in the world of business/leadership or the performing arts.
Working with individuals or teams, John takes you inside his world of high performance and provides insights and long-term solutions to help you build on core capabilities. He shares the fundamentals and a defined, proven process that he uses with the world's best. The process features the very best from performance psychology, emotional intelligence, sport psychology, business planning, executive coaching and neuroscience. You will learn what separates the average from the elite and how you and your team can maximize your abilities. While elite performers can tell you what they did, John can tell you how he got them there - maximizing their abilities to reach their targets.
John is passionate about helping corporate performers and leaders prepare, think and perform like a world-class athlete. He coaches you on how to tap into the 10% that makes 90% of the difference in daily performance.
Along with a variety of professional accreditations, John has been mentored by some of the top industry practitioners in high human performance and leadership. He is a life-long learner believing that what worked yesterday is often outdated today. He has researched, studied, investigated and used trial and error to help people perform at extraordinary levels.
John lives in Ottawa with his wife and son.
- Read More -
"*" indicates required fields
What You Can Learn from the World's Leading Performers
Some of the world's leading performers in sports, business and the arts trust John Haime to coach them and help them to new levels. John is on the inside of world-class performance and has the best seat in the house watching his clients breakthrough to new levels. In a motivating and dynamic talk, John will highlight how he has helped his clients reach new heights, the common threads that define these world-class performers and how you can apply this knowledge to your performance.
Emotional Intelligence Fundamentals for High Performance
John Haime is the world leader in Emotional Intelligence as it relates to high performance. John builds emotional intelligence in the world's best business leaders and athletes to create extraordinary, consistent results. We all know performance starts in the mind, learn how to sharpen your performance and the performance of your team. In John's practical presentation, he will share:
How the key piece of emotional intelligence is the critical factor in high performance
The biology behind Emotional Intelligence and why you must know about it
The five key fundamentals of emotional intelligence and why you must have them to be a high performer
How to be a better seller and negotiator by improving three critical skills
John's Emotional Caddie model is used by some of the world's leading performers and coaches – learn why it's important and how to develop your own Emotional Caddie to drive performance
WORLD CLASS LEADERSHIP: Coaching Your Team to New Levels
John Haime works with some of the world's top leaders and coaches. Learn in this keynote how to bring your leadership capabilities and your team to new levels by elite coaching. Leaders miss endless opportunities to coach their performers to higher levels. Learn to identify when to coach and bring your organization to new levels. In this keynote, John will share:
An exercise that will change your perspective of leadership
How to build coaching competency to enhance your leadership skill level
Why coaching is the critical competency in leadership
The 3 key characteristics of the world's leading coaches and how they leverage these keys to enhance team performance
Recent Publications by John Haime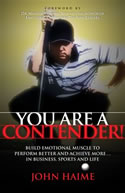 You Are A Contender
"I found the experience of your presentation, from the conference room to the fairways fantastic. The lessons learned were universal to small and large organizations alike."
Manager, Leading Mortgage Company
"Thank-you for one of the best workshops I've attended in 15 years with the company. Very enlightening". Senior District Sales Manager, International Pharmaceutical Organization
"This was a valuable program. The leaders/coaches did a superb job. The pace was good and the time on the golf course was an effective way to reinforce what we learned and discussed in the classroom." District Sales Leader, International Pharmaceutial Organization
"Tremendous feedback from the group John. Lots of great comments on the approach and the delivery. Thank-you so much for a great session." Vice President of Marketing, Insurance Organization