Victoria Turner
Entrepreneur, Executive Coach: Getting Out Of Your Own Way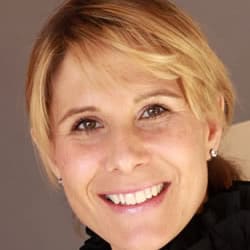 Victoria Turner is a certified executive coach, entrepreneur and an expert at helping professional women to get out of their own way.
Victoria believes that we are the biggest obstacles standing in our own way of the successes we desire at work and in life. No matter what the outcome may be: drive sales, a promotion, close a deal, lead a new team, increase confidence, self-promote, etc. The details around us will not change; it is how we choose to navigate them that can.
It's about the small shifts in mindset that lead to exponential shifts in results.
Victoria is a gifted speaker and motivator. Victoria's content is filled with stories and delivered as a framework, enabling participants to plug in their own details so each session is relevant, engaging and action oriented.
Victoria has combined her entrepreneurial experiences with her coaching toolkit to create Your P.O.W.E.R System: 5 Fundamental Principles to Generate Exceptional Results and To Live Your Best Life™.
Victoria is a relatable and empowering woman, mother of three and an outlet for women to plug into to drive their desired results.
Victoria is a regular contributor to the Huffington Post blog.
- Read More -
Speakers Like Victoria Turner
How to Authentically Self-Promote, with Confidence
Getting Out of Your Own Way: How to Do Exactly What You Are Avoiding, with Confidence.
Your Reboot: Shut Down the Noise and Drive Your Desired Outcomes.
How to Drive Sales, with Confidence.
"As someone who has been a speaker for over twenty years, I always appreciate a great speaker. I've often been disappointed - but not this morning! As you know, the debate has ranged forever in our profession over the value of 'motivation vs content'. You demonstrated how to have both in the same speech." - Helen Wilkie, Presentation Coach
"I was impressed with your ability to introduce your material and move a large group through your worksheet in a timely way. I am putting your forward for an upcoming conference where I know it would be a great addition to our lineup." - Erika Steffer, EgonZehnder
"Thank you for an inspiring and insightful talk this morning! Our Team from Mars Canada that attended each took something away from the event that will further their progress towards their goals." - Ken Okazawa, Mars Canada.
"Victoria is a remarkable speaker as she is passionate, insightful and relatable." - Sarah Simpson, Consultant
"We were absolutely thrilled with Victoria's presentation today. She delivered a dynamic keynote that was relevant, practical and inspiring, keeping the audience's attention the entire time - not an easy task with a room of 250 guests. Our post-event survey had rave reviews about her presentation, hand-out and delivery. Victoria was a pleasure to work from the moment we booked her as a speaker. She listened to our objectives, was flexible with our timing and offered new ideas, making this event one of the most successful we've had in the series." - Dana Krock, WXN
"It was excellent. Victoria you are one of the best presenters I've been to and I feel very fortunate to meet and participate in this event. Very valuable and accessible content to apply and make things happen. Well done and thank you." - Anne, Participant, CPNA Canada
"We just held a Reboot session for a group of female employees and customers. Victoria, thank you for making today such a success for our Power Woman. You are an excellent facilitator - engaging, communicative and truly a thoughtful leader. I can speak for the team in saying that today exceeded our expectations. We are thrilled to have had such positive feedback from our team and customers already!" - Erin Harris, PCNA Canada