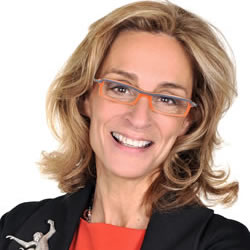 Book Toni Newman
Add to My List
Toni Newman is a professional innovation catalyst - a talented communicator dedicated to helping people create more opportunities for success. She is a five-time award winning business owner with an uncanny ability to help her clients turn information into innovation and ideas into results.
In today's incredibly challenging marketplace, competitive advantage is determined by the ability to effectively differentiate oneself from the competition. Highly respected leaders from sectors as diverse as finance, retail, telecommunications, health care, insurance and many others count on Toni's business knowledge and insight to provoke the kind of thinking that results in innovative strategies specifically designed to propel their organizations forward.
Recognized as one of Canada's top speakers and facilitators on the subject of strategic innovation, Toni Newman's life reads like a chapter from a novel: from Halifax to Paris to the Caribbean to Geneva and finally to Montreal; from litigation lawyer to nightclub singer to Club Med entertainment director, business owner and now professional catalyst - Toni brings a unique mix of business savvy and performance skills to her speaking career. Funny, flexible and frank, Toni is the epitome of the three keys to success that meeting planners are looking for in a speaker: content, style and authenticity. Participants love her "straight talk" approach and clients love her results. Toni Newman is an inspiring call to action for all those who wish to exceed expectations.
Toni's uniquely conversational presentation style is one part dynamic story teller and an equal part trusted advisor. Fluently bilingual, Tony presents with thought-provoking ideas and introduces a highly effective methodology that participants can immediately put into practice.
- Read More -
Speakers Like Toni Newman
Donald Cooper
MBA, CSP, HoF Business Innovator and Thought-Leader
Linda Edgecombe
CSP, Hall of Fame Speaker
Doug Lipp
Former Walt Disney University Trainer, Customer Service and Leadership Expert
Why? Why Not! Innovation as a Competitive Advantage
We live in challenging times where the success of any organization may well be dependant upon the ability of the people within that organization to effectively rethink and reinvent how they do what they do. If you have a team who would like to move from doing the expected to exceeding expectations; if your organization is facing challenges that can no longer be resolved by relying upon the way they do things; join the growing circle of business, government and association professionals who rely upon Toni's custom designed Idea Labs and Think Tanks to turn their inspirations into the innovations that will guarantee their success.
In this thought-provoking and highly entertaining signature keynote, participants are introduced to Toni's unique and powerful four step process designed to turn information into inspiration and innovation into results.
Key topics covered:
The importance of innovation as a core value in any organization
The inescapable link between innovation and sustainable competitive advantage
The four essential steps to The Intentional Mastery of The Power of Why Not!
How to create Innovative Business Strategies designed to maximize performance in all areas of any business or organization
How to maximize the collective brainpower of your team and/or your organization
"I believe your message and content that you deliver is more relevant and timely today to a business than ever! What you add to the message is an energy level that drives the point home and has the message living on beyond the conference. The most sincere point was the over the top positive feedback that you received from our customers in the after-conference satisfaction survey." Schnier/Gesco Limited Partnership
"I have planned many meetings like this and have worked with many speakers and I would have to say that you really are the most prepared speaker I have ever worked with. I think the fact that you took the time to speak with so many participants prior to the event led to a much more personal seminar that got to the heart of the challenges that our GM's face daily. I think the GM's have a better understanding how they really are authors of their own change and that they have to take responsibility for it and thanks to you, I know they now have the tools to get there." Westmont Hospitality Group
"We were thrilled with the passion and energy you brought to the group. Your innate sense of humor and style made the addressing of some sensitive issues a pleasure rather than a task! We were more than pleased with the ultimate result. I can personally say that working with you was one of the most stimulating projects I have been involved with over my many years in retail." Canadian Tire Dealers' Association