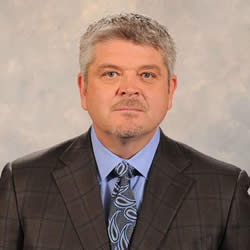 The LA Kings call him a professor of hockey. McLellan comes across as a solid teacher of hockey tactics and skills — just what it takes to win as a coach at any level — and one who has shown he's good enough to do such teaching at the highest level and win.
Currently the Head Coach of LA Kings, he has also served as the head coach of the Edmonton Oilers,  San Jose Sharks (2008–2015) where he led them to six playoff appearances, and as an assistant coach with the Detroit Red Wings (2005–2008), with whom he won the Stanley Cup in 2008.
No Head Coach in NHL history has won more games in their first four seasons behind the bench than the 195 collected by Todd McLellan.
As a player, he played four seasons for the Western Hockey League's Saskatoon Blades and was taken by the NHL's New York Islanders in the fifth round of the 1986 NHL Entry Draft.
When his pro career was cut short by a shoulder injury, he returned to Saskatoon in 1990 to study at the University of Saskatchewan.
Speakers Like Todd McLellan
Mike Babcock
Former Head Coach of the Toronto Maple Leafs; Stanley Cup and Olympic Gold Medal Champion
Joel Quenneville
Head Coach Florida Panthers; Stanley Cup Champion
Bruce Boudreau
Minnesota Wild Head Coach; Member of the Hockey Hall of Fame
Appearances
Bring the excitement of the NHL and the cache of a NHL celebrity to your events, golf tournaments or corporate dinners by having Todd McLellan act as your host, emcee or engage in a meet and greet.  As a local native to Melvelle, Saskatchewan, his ties to his community, success in the big leagues and his compelling, personal stories make Todd McLellan a great speaker, as well.
Hockey Stories - Life in the NHL
What's it really like to run a professional NHL team?  Look behind the boards to hear tales from the bench, locker room and about the players themselves.  This unique insight will provide you with lessons on goal setting, the winning edge sprinkled with humor and stories that you won't hear anywhere else!
Leadership
What does it take to win a Stanley Cup?  Success in the NHL parallels success in business.  Learn from the greatest sports leaders today on how they lead their business and, as importantly, deal with setbacks to refocus on meeting their end goals. 
Motivating Millennials
One of the hottest debates today is "How do you motivate Millennials to drive your business forward?"  Hear from one of the best NHL Coaches, who take a different group of Millennials each year and motivate them to the reach their highest performance both individually and as a team.