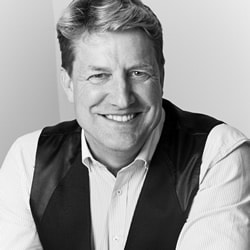 Dr. Hayes is a Clinical Psychologist with 25+ years of experience consulting nationally and globally with executives, management, and teams in the Healthcare & Pharmaceutical, Higher Education, Information Technology, Multimedia, Not-for-Profit, and Aerospace sectors.
He is an engaging and dynamic public speaker, trainer, and expert workshop facilitator and is a published author. His balanced and objective style effectively engages all stakeholders regarding sensitive issues to facilitate effective behavioural change.
His interests include the implicit and explicit dynamics among and between leaders and teams, collaboration schemas, communication styles, workplace diversity, and stress management in relation to organizational transformation.
Dr. Hayes has developed innovative interventions to optimize behavioural change for: Abbott, Bombardier, Chinese Medical Association, Boston U., Canadian Partnership Against Cancer, Credit Valley Conservation, European Society of Cardiology, IBM, McGill, Merck KGaA Global, Ministry of Health and Long-Term Care (CRI), NovoNordisk, Pfizer Global, Royal College of Physicians and Surgeons (Canada & UK), Roche Global, Toyota, Veterans Health Administration, Walt Disney Internet Group and many others.
Speakers Like Dr. Sean Hayes
Leadership Styles & Communications
Watch your Language! Gender Compliant Language in Professional Settings Strengths in Our Differences: Communication Styles & Leadership "He said-she said-They said": Covert communications in Professional Settings
Team Behaviour & Performance
Optimizing Team Behaviour in the era of Agile & Scrum Teams Identifying and enhancing Team Professional Maturity What are "High-Performing" Teams? Differentiating between a Cohesive Team vs a Group of professionals collaborating in silos
Stress & Coping in Professional Settings
rise of presenteeism and how to address it Building resilience in the face of continuous change in businesses today
Organization & Systems
How to really identify your Organizational culture & why it matters Employee/Customer Engagement vs. Employee/Customer Satisfaction: What do you want to achieve and why?