Sean M. Hayes PsyD MA
Organizational Behavioural Strategist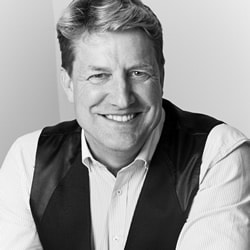 Dr. Hayes is a Clinical Psychologist with 25+ years of experience consulting nationally and globally with executives, management, and teams in the Healthcare & Pharmaceutical, Higher Education, Information Technology, Multimedia, Not-for-Profit, and Aerospace sectors.
He is an engaging and dynamic public speaker, trainer, and expert workshop facilitator and is a published author. His balanced and objective style effectively engages all stakeholders regarding sensitive issues to facilitate effective behavioural change.
His interests include the implicit and explicit dynamics among and between leaders and teams, collaboration schemas, communication styles, workplace diversity, and stress management in relation to organizational transformation.
Dr. Hayes has developed innovative interventions to optimize behavioural change for: Abbott, Bombardier, Chinese Medical Association, Boston U., Canadian Partnership Against Cancer, Credit Valley Conservation, European Society of Cardiology, IBM, McGill, Merck KGaA Global, Ministry of Health and Long-Term Care (CRI), NovoNordisk, Pfizer Global, Royal College of Physicians and Surgeons (Canada & UK), Roche Global, Toyota, Veterans Health Administration, Walt Disney Internet Group and many others.
Speakers Like Dr. Sean Hayes
Check Speaker Availability and Pricing
"*" indicates required fields
Addressing Bias in the Workplace
Conventional "Diversity & Equity" programs failed to substantially improve equity in recruitment and career advancement for women and persons of colour. Today more than ever, leaders and management are under intense pressure to address bias in the workplace. Introducing "Know Yourself to Know Others" an innovative, engaging and evidence-based workshop for professionals facilitated by expert, Dr. Sean M. Hayes. The program draws from psychology and management literature to create awareness of implicit bias among participants, and discusses effective strategies to mitigate its impact at work. Click below for a brief introduction to the program and to Dr. Sean M. Hayes.
Conflict Resolution in the Virtual Workplace
Expert-led presentation
What is Conflict Resolution ?
Factors impacting Workplace Conflict
Strategies to Identify & Address
Engaging & Interactive for you and your colleagues
Live polling
Virtual 'break out' discussions
Real-world case-studies
Role-play team activities
Handouts & tools
Customized to your workplace sector and culture
Virtual Presentation - Covid meltdown "Why are you and your team still exhausted"?
You and your team have…
Adjusted to the initial stress of the Covid lockdown and the novelty of remote work environment
Integrated virtual meetings
Implemented schedules for those who have kids that are home-schooling
Evidence shows that there are different types of stress. People who experience CHRONIC ONGOING STRESS, such as long-term illness, report that they are exhausted, feel emotionally flat, irritable or impatient, and that their insight is diminished.
The pandemic has become a source of chronic stress. The majority of us have never experienced CHRONIC STRESS which is an endless, monotonous and vague threat.
We can help!
Dr. Sean Hayes has over 25 years of consulting experience to enhance leadership skills, build team professional behaviours and optimize organizational performance. We guide management, staff and teams to identify and address their underlying behavioural issues through customized keynotes, workshops and training programs.
Our expertise includes:
Stress Management & Coping
Leadership and Employee Professional Development
Team Dynamics
Facilitating Effective Change
Keynote Topics include:
Identifying the signs of acute and chronic stress
Distinguishing healthy coping from unhealthy coping behaviours
Building team endurance
Promoting a resilient work environment
Leadership Styles & Communications
Watch your Language! Gender Compliant Language in Professional Settings Strengths in Our Differences: Communication Styles & Leadership "He said-she said-They said": Covert communications in Professional Settings
Team Behaviour & Performance
Optimizing Team Behaviour in the era of Agile & Scrum Teams Identifying and enhancing Team Professional Maturity What are "High-Performing" Teams? Differentiating between a Cohesive Team vs a Group of professionals collaborating in silos
Stress & Coping in Professional Settings
rise of presenteeism and how to address it Building resilience in the face of continuous change in businesses today
Organization & Systems
How to really identify your Organizational culture & why it matters Employee/Customer Engagement vs. Employee/Customer Satisfaction: What do you want to achieve and why?
"Sean and Dominique spent the time to understand the challenges we were dealing with prior to the workshop and were well prepared. …They helped us take a big step forward in better understanding each other and how we are dealing with change"
"Conflict is inevitable and our two learning sessions with Dr. Sean Hayes and Dominque Laverdière were instrumental in providing new insights and core foundations in order to best manage a conflict…this foundational training was very helpful for our team and our organization to best assess, depict and address conflict in the workplace and beyond"