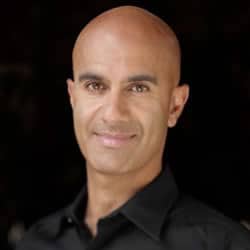 In this rapidly changing, information-crazed age, the currency of success is people --effective, innovative and vital people. Expectations are high and the competition is tough. To thrive in the climate of breakneck change, you and your team must rise to new levels of thinking, performance and creativity, seizing the opportunities that the New Economy reveals to those with the vision to see them.
Robin Sharma is a world renowned authority on leadership, change, elite performance and self-discovery. The widely acclaimed author of 7 books including the global blockbuster The Monk Who Sold His Ferrari and The Saint, The Surfer and The CEO, which was the #1 selling book in the world at amazon.com, Robin Sharma is in constant demand as a keynote speaker, seminar leader and executive coach for organizations committed to true leadership in these times of high-velocity change. His bestseller Who Will Cry When You Die? was listed as one of the "10 Best Leadership Books" by The Globe and Mail and Leadership Wisdom from The Monk Who Sold His Ferrari has been used as a handbook for excellence and success by numerous Fortune 500 CEOs, major league sports superstars, leading entrepreneurs and Hollywood celebrities. Robin frequently appears on programs with many individuals such as former President Bill Clinton, Jack Welch, Deepak Chopra, Stephen Covey and Dr. Phil McGraw. Robin Sharma holds 2 law degrees including a Masters of Law and has had a distinguished career as a litigation lawyer.
Robin Sharma is a well-known media personality who has appeared in TIME Magazine, USA Today, SUCCESS and other national publications; Robin has also appeared on over 1000 radio and television programs ranging from NBC to CNN.
Recent clients include: Microsoft, FedEx, General Motors, Oracle, IBM, Honeywell, Kellogg's, DHL, Motorola, Kraft Foods, Pfizer, Merrill Lynch, Panasonic, Nabisco, Young Presidents Organization, American Red Cross, Meta-link, and CIBC.
- Read More -
Speakers Like Robin Sharma
Donald Cooper
MBA, CSP, HoF Business Innovator and Thought-Leader
Mike Lipkin
Virtual Motivator-in-Chief
Randy Taylor
Survivor/Nationally accredited expert in leadership and human potential
High Performance Leadership in Turbulent Times
In these times of deep change and dramatic uncertainty, your people need leadership training and results-oriented inspiration more than ever before. Economies are going through massive transformation. Globalization has levelled playing fields and changed the way we need to work. And the way we did business even a year ago is clearly outdated. New conditions call for new ways of behaving. And tough times call for new-and better-ways of leading.
In this high-content yet inspirational presentation designed to develop the highest leadership potential of employees at all levels of your organization, Robin Sharma will help your people shift from where they now are to where they need to be in order to excel in these challenging times. Using real-world examples of so-called ordinary employees who have turned business challenges into extraordinary results, as well as sharing hard-hitting and original lessons that anyone within your orgaization can use to drive success in turbulent times. Robin will galvanize your people so that they express their best in all they do.
Lead Without Title: Get to World-Class
In this high-content and inspiring keynote presentation by internationally-respected leadership expert and #1 bestselling author Robin Sharma, participants will learn the breakthrough strategies that elite performers in many of the world's most successful organizations use to seize the opportunities that change presents and create extraordinary results in these fast-moving times.
Specific topics covered include:
How to get more done in less time
The success habits of world-class performers
The importance of taking personal responsibility for creating excellent results and the need of every employee to see themselves as a leader who can make a difference
The value of daily and continuous improvement and how complacency breeds failure
Powerful lessons to help your team become world-class innovators who are constantly doing things better
How the greatest businesses on the planet build high-performance teams and truly excellent cultures
Cutting-edge ideas for creating customer delight, wowing clients and building enduring relationships
7 tools that will help your team lead the field and achieve lasting personal excellence
Big ideas on balancing family with work and creating peak health
Recent Publications by Robin Sharma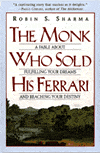 The Monk Who Sold His Ferrari: Fable about Fulfilling Your Dreams & Reaching Your Destiny

Who Will Cry When You Die?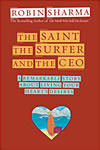 The Saint, The Surfer, And The CEO: A Remarkable Story About Living Your Heart's Desires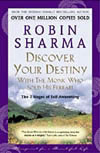 Discover Your Destiny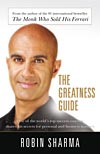 Greatness Guide: The 10 Best Lessons Life Has Taught Me
"Robin Sharma was inspirational and exceeded the highest expectations of the audience. His words were moving and inspiring to everyone including myself. He truly deserved the standing ovation that everyone gave him."Balakrishnan G. Iyer, Vice President, Portfolio Analytics, GE Commercial Finance
"Your high-energy, multimedia presentation made us laugh, and made us think. Your messages were insightful and on target. Thank you for being such an inspirational and thought provoking keynote speaker. You have set a high standard and raised expectations for our series."Vice President Worldwide Operations, Microsoft
"I can now see the value a talented professional can bring to conference such as ours. I was impressed by the manner in which you were able to customize your work. Our dealers and our staff all felt that you had been 'on the inside' for some time and this made your comments all the more applicable. The professional mix of multimedia with your spoken words contributed to the appreciation of your message even more." VISD, Panasonic. Inc.