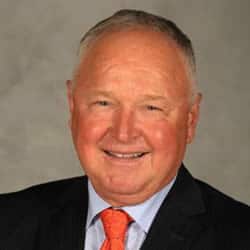 As the winningest coach in Ducks history, Randy Carlyle spent nine seasons as the head coach of the Ducks. He's been recognized as a coach who has changed his 'old style' of coaching, to a newer, more flexible style to adapt to the changes in game. He's still considered very hard in terms of what he wants from players and the discipline you need to play.
In addition to his coaching success, Carlyle played 17 seasons in the NHL with Toronto, Pittsburgh and Winnipeg. Known as a fiery, tough-nosed defenseman, he was selected to play in four NHL All-Star Games and won the Norris Trophy as the league's top defenseman in 1981.
His years of knowledge combined with the recognition that, evolving to meet new needs and challenges is necessary to succeed, make him a leading speaker in today's corporate environment. Last season in his return to Anaheim, he led the club to its fifth straight Pacific Division title with a 46-23-13 record, 105 standings points and a .640 winning percentage. Carlyle then led Anaheim to the conference finals for the third time (2006, 2007 & 2017) in his Ducks tenure. He also led the team to their first-ever Stanley Cup Championship in 2007. The Ducks have qualified for the playoffs in six of seven of Carlyle's full seasons with the team. He has a 46-33 postseason record with Anaheim, and is 27th all-time in playoff wins as a head coach with 49.
Speakers Like Randy Carlyle
Mike Babcock
Former Head Coach of the Toronto Maple Leafs; Stanley Cup and Olympic Gold Medal Champion
Joel Quenneville
Head Coach Florida Panthers; Stanley Cup Champion
Bruce Boudreau
Minnesota Wild Head Coach; Member of the Hockey Hall of Fame
Appearances
Bring the excitement of the NHL and the cache of a NHL celebrity to your events, golf tournaments or corporate dinners by having Randy Carlyle act as your host, emcee or engage in a meet and greet.  As a local native to Sudbury, Ontario, his ties to his community, success in the big leagues and his compelling, personal stories make Randy Carlyle a great speaker, as well.
Hockey Stories - Life in the NHL
What's it really like to run a professional NHL team?  Look behind the boards to hear tales from the bench, locker room and about the players themselves.  This unique insight will provide you with lessons on goal setting, the winning edge sprinkled with humor and stories that you won't hear anywhere else!
Leadership
What does it take to win a Stanley Cup?  Success in the NHL parallels success in business.  Learn from the greatest sports leaders today on how they lead their business and, as importantly, deal with setbacks to refocus on meeting their end goals. 
Motivating Millennials
One of the hottest debates today is "How do you motivate Millennials to drive your business forward?"  Hear from one of the best NHL Coaches, who take a different group of Millennials each year and motivate them to the reach their highest performance both individually and as a team.