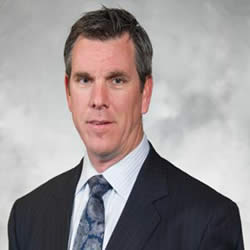 With 15 years of NHL coaching experience, Mike Sullivan led the Penguins to back-to-back Stanley Cup championships in 2016 and 2017 to become 1st American-born coach in NHL history to win multiple Cups.
With an illustrious coaching and playing career Mike hails from Marshfield, Massachusetts. He appeared in more than 700 games over an 11-season NHL career with San Jose, Calgary, Boston and Phoenix. He also represented Team USA as a player at the 1988 World Junior Championship and the 1997 World Championships.
Prior to becoming a Head Coach in the NHL, Mike spent 7 years as an NHL assistant coach with Tampa Bay (2007-09), the New York Rangers ('09-13) and Vancouver ('13-14). In addition, he spent 2014-15 season as member of the Chicago Blackhawks' player development staff, mainly in charge of the development of forward prospects.
Internationally he served as assistant coach for the United States at the 2016 World Cup of Hockey, as head coach for the United States national team at the 2007 World Championship and as an assistant at the 2006 Olympics.
Speakers Like Mike Sullivan
Mike Babcock
Former Head Coach of the Toronto Maple Leafs; Stanley Cup and Olympic Gold Medal Champion
Joel Quenneville
Head Coach Florida Panthers; Stanley Cup Champion
Bruce Boudreau
Minnesota Wild Head Coach; Member of the Hockey Hall of Fame
Appearances
Bring the excitement of the NHL and the cache of a NHL celebrity to your events, golf tournaments or corporate dinners by having Mike Sullivan act as your host, emcee or engage in a meet and greet.  As a local native to Marshfield, Massachusetts, his ties to his community, success in the big leagues and his compelling, personal stories make Mike Sullivan a great speaker, as well.
Hockey Stories - Life in the NHL
What's it really like to run a professional NHL team?  Look behind the boards to hear tales from the bench, locker room and about the players themselves.  This unique insight will provide you with lessons on goal setting, the winning edge sprinkled with humor and stories that you won't hear anywhere else!
Leadership
What does it take to win a Stanley Cup?  Success in the NHL parallels success in business.  Learn from the greatest sports leaders today on how they lead their business and, as importantly, deal with setbacks to refocus on meeting their end goals. 
Motivating Millennials
One of the hottest debates today is "How do you motivate Millennials to drive your business forward?"  Hear from one of the best NHL Coaches, who take a different group of Millennials each year and motivate them to the reach their highest performance both individually and as a team.