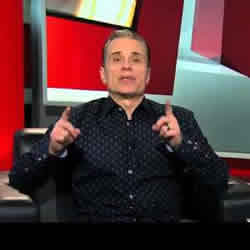 Book Michael Landsberg
Add to My List
Brash and witty, Michael Landsberg generates great fun during his customized and interactive talks. A seasoned on-stage pro, he's diverting, smart, and funny. But that's not half of it. Not one to shy away from anything, Landsberg is also one of Canada's most vocal advocates for mental health awareness. Relating his own struggle with depression, he explains why mental illness isn't a weakness—and how, together, we can beat stigma, fight back, and save lives.
The phrase "off the record" connotes a hushed conversation. TSN's Off the Record, hosted by Michael Landsberg—the 18-season series that ended its storied run in December, 2015—was anything but. Landsberg's popular talk show, full of personality, brag, fun, healthy argument, sports talk, pop culture allusions, big name personalities, and celebrities, was one of the most entertaining half hours on Canadian television. Anyone who watched him on TV knows how diverting and intelligent Landsberg can be. On stage, he's even better. But Landsberg also speaks publicly about his personal battle with depression—and considers his ability to help reduce the stigma of mental illness as his most important professional calling.
Recently, he has been an ambassador for Bell Let's Talk, an initiative focused on raising awareness and encouraging dialogue about mental health, since its launch. In 2013, his documentary, Darkness and Hope: Depression, Sports and Me, was nominated for a Canadian Screen Award for Best History or Biography Documentary Program or Series. The Canadian Alliance on Mental Illness and Mental Health also named Landsberg one of its Champions of Mental Health. Landsberg also takes to Twitter, using the hashtag #sicknotweak to encourage discussion around mental health and create a forum for those needing help. For his longstanding dedication to promoting mental health awareness, Landsberg was honoured with the Humanitarian Award at the Canadian Screen Awards.
One of the best-known personalities in Canadian broadcasting, Landsberg has been with TSN since the network's inception in 1984. He hosted Off the Record from its debut in September 1997. Twice nominated for the Gemini Award for Best Host or Interviewer in a Sports Program or Sportscast, Landsberg was the Whistler Host for Olympic Daytime on CTV during the Vancouver 2010 Olympic Winter Games. During the London 2012 Olympic Games, he anchored TSN's Olympic Daytime. Today, he hosts Landsberg in the Morning on TSN Radio.
- Read More -
Speakers Like Michael Landsberg
Gino Reda
Experienced, Professional, and Community-Oriented TSN Broadcaster
Joe Tilley
Sports Anchor, CTV News Toronto
Frank O'Dea
Inspiring people to achieve inspiring results
Learn More
Darkness and Hope Depression, Sports, and Me
Michael Landsberg was the charismatic and outspoken host of TSN's Off the Record—and from watching his show, you'd never guess that he has been battling mental illness and depression for most of his life. Lifting the stigma from this topic, Landsberg delivers a powerful and personal keynote on the dangerously misunderstood issues of depression and mental health. Depression can affect even the most successful of athletes—from Clara Hughes, one of the great amateur athletes in Canada, to four-time World Series winner Darryl Strawberry. Landsberg shares the story of his own battle with mental illness, as well as the unexplored stories of some of the world's most recognizable sports figures, to show us that recovery, strength and hope are possible in some of our darkest times.
Off the Record Live and Customized for Your Audience
Take the host of one of the most interesting and innovative shows ever produced in Canada. Add in your choice of audience members. Toss in some interesting questions and provocative issues, and what do you have? A session sure to create a buzz and be remembered with fondness long after your conference is over. In his live, customized version of his hit show, Off The Record, Michael Landsberg uses his skills as an interviewer and moderator to get a hand-picked group of your attendees on stage to discuss events of the day. Like only he can, Michael keeps things moving, injects a large dose of humour, and makes sure everyone—but especially, the audience—has a great time. Off the Record Live can be pure entertainment, or an innovative way to get across key messages and themes. You decide, and Michael can make it happen.