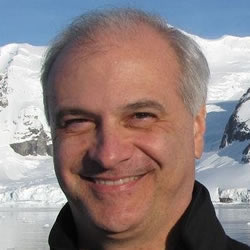 Documentary filmmaker Mark Terry has been producing award-winning films in Canada for more than 20 years. With his film, The Antarctica Challenge: A Global Warning (2009), he achieved the rare feat of setting foot on all seven continents, and his latest film, The Polar Explorer, was the only film invited to screen at the 2011 UN conference in Cancun. Mark is an expert in the environmental issues affecting fragile eco-systems and, by extension, the world.
He also produced and directed the documentary feature We Stand On Guard which chronicled the first 100 years of Canadian military service and saw Mark serve with the Royal Canadian Regiment in war-torn Kosovo.
Mark's film career has taken him to the Painted Desert in Australia, the Sahara Desert in Egypt, Ecuador and Venezuela in South America, Hong Kong, Kowloon, Lantau Island and Macau in Asia and throughout Europe, North America and the Caribbean. The mountain ranges Mark has climbed include the Rockies (Canada and the US), the Andes (Ecuador and Argentina), the Alps (Italy and Switzerland), the Carpathian Mountains (Romania) and the Sar Mountains (The Balkans).
Mark is a regular contributor to Canadian Geographic Magazine, and a member of the prestigious Explorers' Club, a 104-year old organization comprised of the world's greatest explorers. He was recently named a "Fellow" - the highest level of membership within the club.
In addition to belonging to The Academy of Canadian Cinema & Television, the Documentary Organization of Canada and the International Documentary Association, Mark is also a member of several environmental organizations, including The Royal Canadian Geographical Society, and the Canadian Network for Environmental Education and Communication.
A risk-taker and shrewd outdoorsman, Terry possesses the rare ability to stir audiences with both picture and story. In 2011, the Academy of Canadian Cinema and Television gave Mark the Humanitarian of the Year Gemini Award for his thought-provoking films.
- Read More -
"Mr. Terry's films... are extremely valuable in educating the general public and allowing the viewer an insider's perspective to data collection in environments few have the opportunity to experience first-hand. I recommend Mr. Terry and his films to any organization that has an interest in spreading the word regarding climate change research and the major impacts it has for polar regions." President, Yukon College
"The presence of Mr. Terry in Regina was indeed a highlight. The background information and candid response to many informed questions added significantly to the experience of the audience. I can without any doubt recommend Mr. Terry and his extraordinary documentaries to any organisation." Dr. Malcolm Wilson, Co-Recipient, Nobel Peace Prize, 2007, University of Regina
"Mark's films balance both the concern and optimism needed in the future. They are expertly made and provide a stunningly beautiful representation of the polar regions. It would be a pleasure to have Mark back in Prince George and I would be happy to recommend him and his work to other venues and organisations." Professor, University of Northern British Columbia
"Mark is an adept storyteller who is passionate about his work. He provided a tremendous example to young researchers interested in communicating to a broader audience." TerreWEB Program, University of British Columbia
"The lecture by Mr. Terry was very informative and provided great hope that his work with the United Nations will provide the help and support necessary for when the sea levels rise... We highly recommend him to any university interested in climate change research, environmental studies, journalism or documentary filmmaking." The Institute of the Peoples of the North, University of Russia