Marc Andre Morel
Bestselling Author and Bilingual Expert on Balanced Performance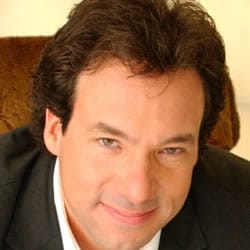 Book Marc Andre Morel
Add to My List
Audiences love Marc André's content-rich but accessible material filled with stories, analogies, humour and energy. Part of what makes him so compelling is the strength of his message, delivered with passion, creativity and authenticity. His charismatic delivery and style inspire participants to immediately take action and use it at work and in their personal lives, making the total experience even more enriching.
Founder of Morel Leadership International and duLeader Publishing, he is one of Canada's top self-leadership expert, as he has delivered close to two thousand inspiring, educating and entertaining sessions to both English and French audiences across Canada, the United States and Europe. With four published titles, he is a Best-Selling author, columnist, coach and consultant.
After earning his Commerce degree from Concordia University in Montreal, he accumulated several coveted corporate sales and leadership awards, including the Multiple Sclerosis Leadership 2002 Award for his professional excellence and outstanding community contribution. Marc André has also earned the coveted Certified Speaking Professional (CSP) by the International Association for Professional Speakers. He has been interviewed and has appeared in various National television, radio and print Medias for his premiere expertise on Personal and Professional Leadership.
Dedicated to make a difference for adults, but also for youth, he is actively involved in his community to help strengthen the leadership of the next generation as well as to help promote life and perseverance in education. His own personal and inspiring story as a teenager is featured in the acclaimed Chicken Soup for the Canadian Soul. It was at the age of 16 that he delivered his first motivational keynote in front of an audience of 1200 people!
Marc Andre loves to travel, learn, bike, swim and run. He lives in Montreal with his girlfriend and their Golden, Major Tom.
- Read More -
Speakers Like Marc Andre Morel
DESTINED TO SUCCEED: Becoming the Best That We Can Be
We are destined to succeed. Life and Nature has prepared us for success! Get the most from your employees and your teams' potential by helping them be conscious of this striking reality, let go of past limiting beliefs, to think and act differently and take full responsibility for their results. Being the best I can be for me, my family, my team, my organization and our clients. Inspiring, entertaining and motivating !
DESTINED TO SUCCEED in a CHANGING WORLD: Letting Go, Moving On and Becoming Comfortable with the Uncomfortable
We need to stop improving and start transforming ourselves! Human beings have survived over the millenniums thanks to their innate ability to adapt. The business world and our work environment is no exception. This program presents the advantages - and the necessities - of change. Using convincing analogies and metaphors, help your employees get rid of their fear of losing the known to put their ego aside and build their confidence to become comfortable with the uncomfortable!
DESTINED TO SUCCEED as a TEAM: Unity Through Responsibility, Adaptability and Collaboration
It is part of the Human Nature to interact with others. But why is it so challenging to be so effective in doing so? We are destined to succeed as teams. This is how the Human creature has survived through time. Our sense of survival, security, ego and motivation for recognition are all great personal success motivators. But they can be alarming barriers to our success as a team. Create durable synergy, improve communications, attitudes and help retain your best employees. With humor, this program proposes unforgettable metaphors and ideas.
DESTINED TO SUCCEED with BALANCE: How to Perform and Be at Your Best no Matter What
Did you know that 54% of workers experience professional exhaustion once in their life-time? Burn-out is #1 cause of LTD claims in Canada. Based on his personal experience and enriched with his research on the matter, this session is purposefully delivered on a light and humoristic note. Help your employees rediscover the sense of success and garner ideas on what to do to be at their best.
DESTINED TO SUCCEED as a MODERN LEADER: Understanding and Mastering the Qualities of Today's and Tomorrow's Leader
Human resources shortages, the generation gap, evolving technology, fast paced work environments and a global economy are just a few examples of the reality of today's leader. But what is a leader? And what is the difference with a manager? This program proposes up to 17 qualities for the leader of tomorrow to master in order to sustain the challenges of people, personal balance, competencies and adaptability.
DESTINED TO SUCCEED in BUSINESS: Modern Strategies for Attracting and Keeping Clients
Why are your clients leaving you? Why is Customer Satisfaction useless? Do you know what your "perfect" clients really want? Are you aiming big like old times or targeting low with perfect focus? Learn the top five ways to impress your clients. Are you misusing Social Networks? Are you remarkable and what do you do to make a real difference? The strategies of the past decades no longer work. Be ready!
Recent Publications by Marc Andre Morel

Les 5 Raisons du Succes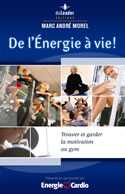 De L'Energie a Vie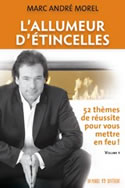 L'Allumeur D'Etincelles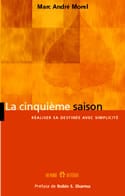 La Cinquieme Saison
"Your lecture was powerful and moving and certainly got employees talking and thinking about the way we plan our work". Human Resources Development Canada
"He's a combination of inspirational speaker, entertainer, comedian and spiritual guru...I highly recommend him". Merck Frosst
"The delivery was extremely entertaining, interesting and professional. Your enthusiasm has made an impact on all of us and gave us new perspectives on everyday situations and participants' feedback were very positive". La Senza
"Fantastic, hit the nail on the head!" CMHC
"It was brilliant, worthwhile, and applicable to everyone's life & work!" Public Works Canada
"Informative, relaxed, entertaining, eye opening, to the point". COH
"Must see". Bell Canada
"Wake-up call. All can be good, if you want it. You decide for yourself, you choose your attitude everyday. Don't give in but don't give up!". Lyreco
"An incredibly simple message with a profound impact". Joico
"Energizing, enlightening". Canada Revenue Agency
"Marc did an excellent job facilitating-the group was interested, involved and intrigued by his presentation and his ability to relate to their "reality". Bell Mobility
"I have seen many speakers of the years but none as energetic and passionate as you". Union Gas