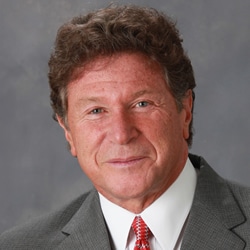 Book Ken Dychtwald
Add to My List
Over the past 40 years, Dr. Ken Dychtwald has emerged as North America's foremost visionary and original thinker regarding the lifestyle, marketing, health care, financial, and workforce implications of the age wave.
Ken is a psychologist, gerontologist, documentary filmmaker and best-selling author of 16 books on longevity and aging-related issues, including Bodymind, Age Wave, New Directions in Eldercare Services, Age Power: How the 21st Century Will Be Ruled by the New Old, Workforce Crisis, Gideon's Dream: A Tale of New Beginnings and A New Purpose: Redefining Money, Family, Work, Retirement, and Success. He is currently writing two new books – Financial Caregiving: Where Love, Honor and Money Converge and The Sorcerer's Apprentice. He was the executive producer and host of the twenty-part medical education series Caring for an Aging Society, as well as executive producer and host of the highly acclaimed PBS documentary The Boomer Century:1946–2046 which aired nationally over 2,000 times.
Since 1986, Ken has been the founding CEO of Age Wave, the world's leading advisor to companies and government groups regarding product and service development for men and women aged 50+. His client list has included over half the Fortune 500, and his innovative solutions have catalyzed a broad spectrum of industry sectors—from pharmaceuticals and medical technology, to automotive design and retail merchandising, to financial services and healthcare.
He has served as a fellow of the World Economic Forum, and was a featured speaker at two White House Conferences on Aging. Ken has twice received the distinguished American Society on Aging Award for outstanding national leadership, and American Demographics honored him as the single most influential marketer to baby boomers over the past quarter century. His article in the Harvard Business Review, "It's Time to Retire Retirement," was awarded the prestigious McKinsey Award, tying for first place with the legendary Peter Drucker. He was recently honored by Investment Advisor Magazine as one of the 35 most influential thought leaders in the financial services industry over the past 35 years. Ken and his wife, Maddy are the recipients of the Esalen Prize for their outstanding contributions to advancing the human potential of aging men and women worldwide.
During his career, Ken has addressed more than two million people worldwide in his speeches to corporate, association, social service, and government groups. His imaginative ideas and strikingly accurate predictions are regularly featured in leading print and electronic media worldwide. His work has garnered over ten billion media impressions worldwide.
In addition to his role at Age Wave, he is deeply involved in numerous activities for the public good including the Alzheimer's XPRIZE which he co-envisioned with XPRIZE Founder Dr. Peter Diamandis in 2012. The Alzheimer's XPRIZE team is now preparing to globally crowdsource a new 21st century approach to ending Alzheimer's disease.
- Read More -
Speakers Like Ken Dychtwald
How the Age Wave Will Transform the Marketplace, the Workplace and Our Lives
Increasing longevity, declining fertility and aging baby boomers are triggering an enormous "age wave." This demographic tsunami has the potential to create ground-breaking marketplace and work/talent opportunities-and equally compelling social and financial challenges. How will people use their newfound "longevity bonus?" How will aging boomers change established paradigms of work, leisure, learning and retirement-as well as lifetime brand loyalty? What's the most effective way to market and sell to "middlescent" boomers wishing to enrich the quality of their lives, while forestalling aging? Why is managing a four-generation workforce the new diversity mandate?
Re-Visioning Retirement: New Timing, New Purpose, New Planning, New Funding
Everyone's retirement clock has been reset as a result of the recession. This presentation will explore why financial "peace of mind" has become far more important than "wealth" in the new American dream, how women's rising financial power is transforming their attitudes and behavior toward money, their family dynamics and the field of retirement planning, and how the adult lifestage demands of eldercare, sibling care, grandparenthood, singlehood and retirement will dramatically impact retirement preparation and funding.
The Cure for Our Aging Healthcare System
Whether we live long lives with vitality and purpose or sickness and suffering will depend to a great extent on our ability to reshape the skills, services and incentives of our current healthcare system. This presentation provides a visionary glimpse into the future, outlining the critical course corrections required to create healthy aging and productive longevity.
A New Agenda: 7 Critical Course Corrections Needed for a Century of Successful Aging
Questions to be asked-and answered: Is the longevity revolution over-or is it just beginning? Can our country afford to have tens of millions of us living to 80, 90 or even past 100? How will boomers age differently than their parents? When does old age begin-and should old age benefits be indexed to advancing longevity? How must our current healthcare system change to manage the onslaught of boomers and their chronic degenerative diseases? Is retirement obsolete? Are we becoming a political gerontocracy? Are our leaders capable of distributing limited government resources fairly among many generations, each with its own distinct needs, styles, fears, expectations and political priorities?
Optimizing Generational Diversity: Four Cohorts Rethink Work, Money, Family, Retirement and Success
This high-impact presentation will examine: What key social forces have shaped each generation and produced their distinct, core lifetime characteristics? What does each generation hope to get from-and give to-their jobs/careers? How do you manage and motivate each generation, from "encore" workers seeking stimulation and self-worth, to older workers looking for balance and purpose, to mid-career workers trying to reboot their enthusiasm for a longer and more demanding worklife, to young workers struggling to enter the workforce during tough economic times. How does each measure success?
Recent Publications by Ken Dychtwald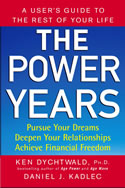 The Power Years: A User's Guide to the Rest of Your Life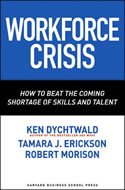 Workforce Crisis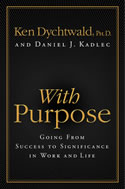 With Purpose: Going from Success to Significance in Work and Life
"I have been learning from Ken Dychtwald for years and am convinced that he is today's most innovative and original thinker on this important subject." Former President Jimmy Carter
"You have a real gift for communicating with others. On a scale of 100, you received an average score of 98%. Obviously, this is just about as close to being perfect as you can get. We have enjoyed many top-ranked speakers over the years, including Dr. Victor Frankel, Mother Teresa, David Brinkley, George Will, Chris Matthews, Cokie Roberts, Congressman Claude Pepper and Senator Ted Kennedy, but no one was ever better received than you." President, National Association for Home Care and Hospice
"Ken Dychtwald was a featured speaker at News Corporation's global management conference in July 2006, where he joined a line-up of powerful speakers that included Senator John McCain, British Prime Minister Tony Blair, and former president Bill Clinton. Not only did Ken command the audience, but his was one of the most enlightening, thought-provoking, and entertaining presentations of the conference." President and COO, News Corporation
"Ken Dychtwald is simply extraordinary! His substantive presentation on relevant issues that affect us all is framed with an inspiring style and a persuasive delivery. Dr Dychtwald is a brilliant thought leader who grabs your attention instantly and, on merit and with solid documentation, convinces us that our tomorrows can be filled with zest and promise. What audience wouldn't benefit measurably from that?" President, High Point University; Chairman, Great Harvest Bread Co.
"The global population is turning gray-and no one understands the economic, social, and personal impact of this better than Ken Dychtwald." Chairman and Chief Executive, WPP Group, plc
"Ken Dychtwald is a showstopper. He is one of the few speakers that can educate, entertain, and have you laughing and crying-all at the same time." Company Group Chairman, Johnson & Johnson Company
"Congratulations! Your presentation at our annual convention generated the highest speaker rating in the 24-year history of this event." Vice President Education and Conference Services, Securities Industry Association
"I wish I had written down all of the compliments I received about your remarks from our attendees. Your message provided a thoughtful, informative and provocative challenge to the HR profession. I certainly hope you enjoyed the standing ovation from all 17,000 participants!" Senior Vice President, Society for Human Resource Management