Justine Fedak
Virtual Keynote Speaker
Corporate Hippie, Motivational Speaker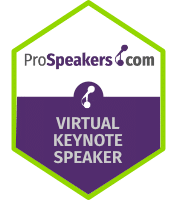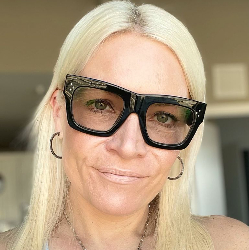 Justine Fedak is a self-declared Corporate Hippie and recognized motivational speaker, using her inspiring life story of resilience, her disability (MS), and her well-lived c-suite career experience to bring much needed positivity and to individuals and teams.
She is Chief Marketing & Culture Officer, BIÂN Chicago. She was the former Chief Brand Strategist, Pollara Strategic Insights and a long-time senior, co-founder of Instant Impact, DEI consulting & speaking (with Star Jones) & a senior executive with BMO for over 20 years.
Justine is a very active member of her community and industry. She is the incoming Chair of the Board of Directors, The Magnificent Mile Association, and member Chicago Police Foundation. She is SSA commissioner SSA #16, City of Chicago (Greektown), Chair of Chicago-Toronto Sisters Cities, World Business Chicago, as well as past member of many other prominent boards in Canada and the US.
She is the National Multiple Sclerosis Society's 2013 "Woman on the Move" (Illinois); Dalhousie University Lifetime Achievement Award Winner 2015, Chicago Business Journal's 2015 Women of influence; Chicago Sky's 2016 "Redefine Possible" Women's Leadership Award recipient; and the 2017 Cohn Weil Memorial MS Honoree. She was also recently featured in CS magazine as Chicago Favorite women of inspiration and style and was the Eversight "Woman of Vision" 2021. She is this year's honoree for the MS Dinner of Champion's Dinner, September 2022.
Speakers Like Justine Fedak
Check Availability for Justine Fedak
Being in love with your life, every single minute
Looking to harness challenge and uncertainty into resilience and results? Justine reminds us about what we can do to re-connect to the gratitude we often lose in our struggles and anxiety that cause us to stop enjoying the journey we are on. Using her own life's story of personal loss, divorce, and family life, including the diagnosis of a chronic incurable illness, MS, Justine's raw and unique humanized perspective on how to live with passion, authenticity and incredible vulnerability can help you see how your own adversity can be your greatest asset in work and life.
Justine enables audiences to see their own "innate" ability to heal themselves.
Takeaways:
You always have a choice to "live" or "exist"
Incorporating the 24 hour clock and other practical techniques to stay connected to what matter
Resilience has to be acknowledged regularly
Authenticity in the work place - how you create, sustain and foster it
Living openly with a disability at work and especially in the C-suite is still rare. Justine's years managing a North American marketing team in a global firm while openly living with MS enabled her to integrate DEI advocacy & corporate objectives within her daily work, team and company. Her commitment to truly being a socially conscious marketing executive enabled her to focus her support on the elimination of barriers for individuals with and without disability. Her tireless advocacy led her be recognized with many awards across Canada and the US including being named the youngest ever LifetimeAchievement Award winner of Dalhousie University. Her ability to bring their whole "hippie" self to everything she does earned her the title "Corporate Hippie".
Her genuine compassion and raw honesty about building a 20 year career while battling MS, her decision to disclose at work, and "balancing" her mobility and life both motivates and inspires teams and leaders to want to not only impact and support others but also open themselves up to receive true fulfillment within their company role and life.
Takeaways:
Frameworks to build a more humanized culture and recognize the power of aligning policies and to real people
Leading in times of Uncertainty - acknowledging and building resilience and positivity as superpowers
Unique key learnings and experience from an executive living openly with a disability
Personal and Professional worlds can be integrated
Curiosity IS a leadership trait
We all have something to hide/ we all have something to share
"Justine Fedak gave a very insightful webinar for the Discover Ability Network entitled "Shifting Perspectives: Owning You're Disability At Work." Justine was able to share her valuable lived experience of disability in the workplace with our viewers who engage in the disability space, making for an engaging and informative webinar. We greatly enjoyed having Justine as a dynamic and gifted guest speaker for our event."
- Elizabeth Novak (She, Her), Program Coordinator, Ontario Chamber of Commerce
"Justine was so gracious in her willingness to present to both our women executives alone, followed by a session for our entire audience. The feedback we received on those sessions could not have been better. Glowing responses from our entire group asking when they'll have the opportunity to meet her again and when her book will be available for purchase. She didn't meet our expectations, she well exceeded them! In fact, we've already reached out to her about coming to at least two events we have coming up next year and can't wait to have her join us!"
- Jaclyn Sass, Director, Marketing, Events & Internal Communication EVP, Merkle
"We were fortunate enough to have Justine Fedak speak at an event for the participants of our EPIC longitudinal study at UCSF. In previous years this event, which is meant to inform our research participants about our progress in Multiple Sclerosis, has been a 2 hour session with updates from various disciplines and with all of the speakers being our scientists from UCSF. Justine's talk was strategically placed at a little over half way through the program. Justine is an inspirational and charismatic speaker. Her talk was the highlight of our program and we received rave reviews from our participants, who felt uplifted by her presence and words. Justine is personable, professional, and powerful and her impact as a keynote speaker made our event a huge success and we would recommend her for any conference looking to inspire their participants."
- Stephen L. Hauser, MD Director, UCSF Weill Institute for Neurosciences Professor, Department of Neurology
"Within minutes, Justine has our audience captivated by her incredible story. She was authentic and relatable in a way that had everyone fully engaged during her talk. It's been several weeks since the conference, and people are still talking about how they were inspired by her. The biggest benefit of having Justine as our keynote speaker is that it set an open and productive tone for the rest of our event. It's been several weeks since the conference, but people are still talking about how they were inspired by her."
- Aaron Tellier, Wealth Management and Insurance EVP, Merkle
"I've had the pleasure of seeing Justine speak on multiple occasions. Her ability to connect with her audience and storytell is simply exemplary. Justine's background in leadership, financial services, sports partnerships and overcoming personal adversity were extremely powerful. Her positive mindset, courage and story has stuck with me for years and has played a pivotal role in how I approach my work and peers. I've seen 100s of speakers during my tenure with student leadership, conferences and competition styles events and can safely say that she is hands down one of the best ones I've ever seen." 
- Aneesh Lal, Former President of the Canadian Association of Business Students, Pelmorex Corp. / The Weather Network