Josh Linkner
Five-time tech entrepreneur, hyper-growth CEO,
NY Times bestselling author, and venture capitalist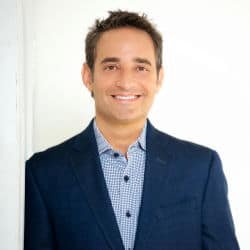 Josh Linkner – who started his career as a jazz guitarist – personifies innovation, entrepreneurship, and breakthrough disruption. He has been the founder and CEO of five tech companies, which sold for a combined value of over $200 million.
Josh is a New York Times Bestselling author, and an internationally recognized expert on innovation and applied creativity. His first book, Disciplined Dreaming: A Proven System to Drive Breakthrough Creativity (2011), become one of the most definitive works on the topic of innovation, and has since been published in 13 languages. His other two books, The Road to Reinvention: How to Drive Disruption and Accelerate Transformation (2014), and Hacking Innovation: The New Growth Model from the Sinister World of Hackers (2017), have both received critical acclaim and have pushed the boundaries of business leaders worldwide.
Josh is also the Founding Partner of Detroit Venture Partners, investing in and/or mentoring over 100 startups. Today he serves as Chairman and co-founder of Platypus Labs, an innovation research, enablement and consulting firm.
Josh has twice been named the EY Entrepreneur Of The Year and is a President Barack Obama Champion of Change award recipient. He is a regular columnist for Forbes, The Detroit Free Press, and Inc. His work on innovation has been featured in The Wall Street Journal, Harvard Business Review, CNN, and The New York Times.
He is the father of four, a passionate Detroiter, and yes, he still plays a mean jazz guitar.
Speakers Like Josh Linkner
Scott Stratten
Un-marketer, Virtual Business Expert
Mike Walsh
Futurist, Digital Tech and Emerging Markets Expert
Jim Carroll
Futurist, Trends, Creativity and Virtual Innovation Expert
Check Speaker Availability and Pricing
"*" indicates required fields
Find Your Spark: Inspiring Disruption, Growth, and Action
Lisa shares her strategies for winning in life and thinking like a champion. She educates, motivate and inspire business people, entrepreneurs, doctors, IT professionals, managers, students, athletes and parents on finding their path to fulfillment, having courage to get out of their comfort zone and elevating themselves to become their best self.
Harnessing Innovation: Turning Raw Ideas Into Powerful Results
As a five-time successful tech entrepreneur and investor in dozens of startups, Josh Linkner has seen thousands of companies loaded with creative buzz and big ideas. How is it that some harness their imagination to create game-changing drivers of growth and innovation while others miss the mark? The answer: The best companies have a systematic process to focus their team's creativity into practical outputs—something Linkner discovered by founding and building companies that sold collectively for over $200 million. As a professional jazz guitarist, Linkner blends the improvisational qualities of a jazz ensemble with bleeding-edge business savvy to bring a completely fresh perspective on unleashing creativity in the organization. His inspiring presentation delivers practical tools that can be used immediately to increase creative output and deliver bottom-line results.
You'll learn to:
Use specific techniques to harness your most powerful ideas
Apply creativity on a daily basis across all business activities and roles
Break free from the three biggest blockers of creativity
Apply best practices from the world's most innovative companies
Avoid the five biggest creativity killers
Master the three most powerful brainstorming techniques that you've never heard of
Build a culture that celebrates fresh thinking and embraces new ideas
The Gravity Defying Leader: Innovative Approaches to Hypergrowth Leadership
With disruptive forces assaulting business from every direction, creativity has been labeled the single most important business attribute. To succeed, leaders must be focused on creating a resilient culture where everyone's engaged; a torrent of innovative ideas needs to flow from every level of the organization. Top leaders then employ a secret weapon: a systematic approach to selecting and launching the ideas that will best drive growth and innovation. Josh Linkner weighs in with a fresh perspective on this critical leadership challenge. A highly successful serial entrepreneur and now a tech investor, Linkner shows leaders how to employ his simple but effective framework to ramp up the creativity and identify/launch ideas that will break through and defy gravity. This presentation will help leaders:
Challenge assumptions and conventional wisdom
Build courage to foster responsible risk-taking
Authentically express your own creativity and tap into the hidden creativity of your team members
Develop "everyday creativity" to attack business problems of all sizes
Deploy creativity beyond R&D to reimagine processes, drive efficiency and improve operations
Uncover fresh approaches for reinvention and growth
Entrepreneurial Fire: Think and Act Like a Startup (Even When You're Not)
Entrepreneurs look at the world differently. We celebrate them for their bold vision and courage—they drive game-changing innovation that creates enormous economic success while making a profound impact on the world. What is it about the entrepreneurial mindset that helps these mavericks seize opportunity that others miss? A five-time successful tech entrepreneur, Josh Linkner shows leaders and organizations how to embrace the creativity, grit and vision of a startup and then channel this approach to drive growth, innovation, efficiency and customer delight. Linkner decodes the entrepreneurial DNA to help leaders of any size company in any industry or profession:
Understand how an entrepreneur would attack their organization with the specific goal of dislodging it
Reimagine their role through the lens of an entrepreneur
Harness the ferocity of entrepreneurial thinking
Embrace "startup speed" to increase velocity in your own organization
Learn the five best approaches used by startups to create disruption
Avoid the weaknesses that plague entrepreneurs by exposing the four biggest startup death traps
Hacking Innovation: The New Business Growth Model from the Sinister World of Hackers
With intense competitive pressures and mind-numbing speed, leaders seek fresh approaches for growth and innovation. As old methods become commoditized, new creative problem solving techniques are needed more than ever. Drawing inspiration from the unlikely world of hackers, New York Times bestselling author and five-time tech entrepreneur Josh Linkner has discovered a new and powerful model for leadership and organizational success. The underworld of cybercriminals contains some of the most creative people on the planet, despite their illicit motives. In this thrilling and provocative talk, Linkner takes the audience on a mind-opening journey, showing how hacking techniques can be deployed to drive legitimate business outcomes. Learning how hackers would solve your most pressing challenges using unorthodox approaches will give you a new framework for creative problem solving, growth and innovation.
Specific tools and techniques from the Five Core Mindsets and Ten Primary Tactics of Hackers
Fresh approaches to complex problem solving
How a hacker would approach your work if he or she had your job
Why unorthodox moves can lead to the best business outcomes
How to protect yourself and your company from innovation hackers of all sizes and types
The Music of Business: Translating Improvisational Thinking From the Jazz Stage to the Business World
Be prepared to be amazed. Josh Linkner, a jazz guitarist since age 13, credits a musical background for giving him a different way of looking at business. In this stunning interactive presentation, a live jazz performance by Linkner and his band is woven with stimulating dialogue. You'll actually hear, through their music, fresh ways to unleash your organization's creative mojo. In jazz, 99% of the notes are improvised and created in real time. Yet it's the structure of a jazz combo—not the inherent talent of individual musicians—that allows for such breathtaking creative expression. In today's business landscape of dizzying speed, exponential complexity and ruthless competition, we can no longer just play the notes on the written page. You will learn powerful lessons inspired by jazz musicians (aka "real-time innovators") to help you:
Develop your own ability to improvise, no matter what job title you hold
Establish team dynamics that foster creative thinking and risk-taking
Uncover fresh approaches to previously unchallenged assumptions
Break free from traditional thinking and uncover vast new possibilities
Learn five secret techniques used by jazz musicians to foster creativity, which can easily be adapted to your own organization
Expand your ability to deal with ambiguity and recover from setbacks
Recent Publications by Josh Linkner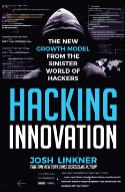 Hacking Innovation: The New Growth Model from the Sinister World of Hackers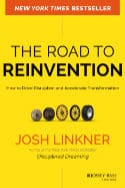 The Road to Reinvention: How to Drive Disruption and Accelerate Transformation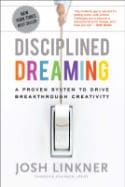 Disciplined Dreaming: A Proven System to Drive Breakthrough Creativity
"When Josh speaks, business improves."
Earvin "Magic" Johnson
"Thank you a million times over—you nailed it with the presentation yesterday and it was spot on for our team! You sparked so many follow-on discussions yesterday and were a continued theme throughout our meeting—people are already brainstorming great new ideas about how to implement small innovations and use your tips to break down barriers on our teams."
Melissa Fillpek, Director Public Affairs, American Express
"Josh, as always you are amazing. It is quite obvious that you took the time to prepare to bring everything you have. Thank you for your coaching and support throughout. I am sending you so much gratitude. You amaze me...always!"
Kathy Twells, Assoc. Vice President Customer Marketing, The Coca-Cola Company
"Josh Linkner is a truly special entrepreneur; Part of a rare breed."
Eric Lefkosfsky, CEO, Groupon
"Josh, Thanks for a simply magnificent job yesterday with our Cox Automotive leadership team. You hit it outta the park. Folks were still talking about you last night. This was dynamic for all."
Sandy Schwartz, CEO, Cox Automotive
"Josh, you were fantastic and an absolute delight to work with. Wow – what can I say except a huge THANK YOU. Your presentation was so excellent and a wonderful way to kick off our Annual Meeting. I heard so many of our members making reference to your presentation throughout the Meeting. And, signing books for two hours was a true testimonial to how well your presentation resonated with our members. Plus, you were a pure delight to work with . . . very low maintenance."
Anne Blouin, Chief Learning Officer, ASAE
"A journey that will lead to better ideas and breakthrough thinking."
Bill Ford, Jr., Executive Chairman, Ford Motor Company
"OUTSTANDING. Every example resonated. We need to have you back. You nailed it. Exactly what we wanted."
Richard Davis, CEO, US Bank
"Thank you so much! You were a pleasure to work with and a meeting planner's dream. Thank you for being so flexible and being so great and delivering an exceptionally tailored talk to our group. People are still raving about it today. Thanks again!"
Monica Grinage Cooper, CMP, Event Program Manager, International Facility Management
"You've had a huge impact on our group and the way I approach business."
Mark Zikakis, CBRE
"Josh Linkner made a huge impact on our organization. His message on creativity and innovation was spot-on and his work has had a lasting effect. After hiring him for one conference where he was voted the top speaker by far, we promptly invited him back to present to a larger audience. His keynote was high-energy, interactive, and left us with specific tools and techniques to improve our creative output."
Juergen Rochert, Vice President, Daimler Financial Services
"Awesome, awesome, awesome!!! Thank you Josh, you nailed your message and nicely incorporated our company into your talk."
Gregory F. Molinar, Ph.D., Medtronic
"We very much enjoyed your talk and workshop. You created just the right finish and exclamation point in our program. The feedback from our team – amazing, energizing messages, entertaining and humorous, actionable learnings, things people can do right away."
Sajeena Warrier, Managing Director, Intel Security
"It has been such a great experience and opportunity to work with you. Our entire team and our clients have totally and thoroughly enjoyed your presentation and have taken so many great ideas away from it. Your feedback scores average 98% so far from D.C. to Atlanta! You are a huge hit with everyone and we so appreciate the energy, enthusiasm, excellent content and delivery that you bring to each conference. It has been an honor and a pleasure meeting and working with you. You are so accomplished and yet so humble. You are truly unique. A great leader and a wonderful example for so many."
Jeanne Gaudette, Marketing Manager, Fidelity Investments
"Your presentation was fantastic and really delivered on our theme. We've heard nothing but great feedback about the information you shared and have no doubt many of our teams will be using the 'role-storming' model for future brainstorming sessions. It was a pleasure working with you and we appreciated the effort you put in to ensuring the presentation met the meeting objectives and was relevant and entertaining for our broad audience."
Traci Plate, Chief of Staff North America, GSK Consumer Healthcare