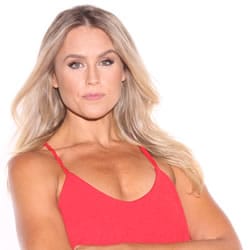 This is Jana Webb; a lifelong athlete, industry disruptor, and overall loveable woman who has made it her mission to share her inimitable perspective of fitness and health with the world.
The creation of Jana Webb's brainchild JOGA was a fortuitous occurrence born out of a seemingly unfortunate event.  Before this chapter of her life, Jana was a successful Television host and Advertising Executive, but it wasn't until a serious car accident that inflicted some physical ailments that her acting coach suggested she try Yoga breathing techniques as a rehabilitative practice.  Low and behold, a Yogi was born, but not the traditional kind; having always been somewhat of a 'jock' Jana was able to morph her Ishta Yoga training from Japan in such a fashion that complimented her competitive athletic nature. In 2010, JOGA: a unique blend of postures and breathing techniques was born and has been revolutionarily helping people strengthen their mind and bodies ever since.
Wanting to bridge the gap between fitness and yoga, she developed a number of sport specific programs including Yoga for Golfers and Yoga for Runners to help people apply better practices to help them excel at their sport. before developing the JOGA program.
Jana's success digs deeper; having inspired Olympic and professional athletes all over North America in the NHL, NFL, MLB, NBA, and CFL to see the benefit of practicing JOGA, but to want to implement it as part of their training regime as well lent itself to an incredible milestone that allowed her to travel internationally with teams and athletes from around the world.
Having found her niche market in the realm of high-performance and elite athletes, she's been able to capture the attention of valuable media sources with highlights in The Toronto Star, The Globe and Mail, Inside Fitness, Optimyz, CBC, CityLine, Breakfast TV, and an opportunity to be an industry professional speaker for TedTalks, Optimyz Conference, CanFit Pro and Veg Expo.
This awareness and growth called for a business shift to expand the culture of JOGA.
With the extension to allow other health professionals, yoga instructors, physiotherapists, athletic therapists and strength coaches to become JOGA certified – JOGA WORLD now has over 350 JOGA coaches around the globe. The most recent business venture for Jana is the building of her first JOGA HOUSE. Toronto will be the flagship location with many more locations to come.
Jana's relatable spirit and wonderful sense of humor are what has brought her to be one of the six Real Housewives of Toronto.
- Read More -
Sally Armstrong
Amnesty International Award Winner, Order of Canada Member, Filmmaker, Author, Human Rights Activist
Kathy Buckworth
Award-winning Author, Television Personality, Virtual Parenting Expert
Tracy Moore
Host of CityLine
Check Speaker Availability and Pricing
Health, Fitness and Stress
Jana Webb is a lifelong athlete who has made it her mission to share fitness and health with the world. Combining athleticism with yoga she created "Joga" – the breathing and relation of yoga combined with bio-mechanics of sports. 
Jana will share her insights into mindfulness and breathing to transform people's bodies and mind.
Motivational
Jana's success if well documented.  What isn't is her struggle to overcome a life changing accident to get to where she is today. 
In 2016, she was hit head on by a cement truck leaving her with a severe concussion and broken back.  Let Jana inspire and motivate your audience with her story of how she used the challenge of her accident to drive her forward to achieve, and exceed, her goals.
Entrepreneurship
The road to success is never straightforward. Innovator. Creator. Entrepreneur. Business Woman. Teacher. Mother. TEDx Presenter. Published Fitness Writer. TV Host. Ambassador. Media Sensationalist - Jana will share her insights and lessons learned that will challenge your team to new heights! Her engaging personality and humorous approach will have your audience enraptured.