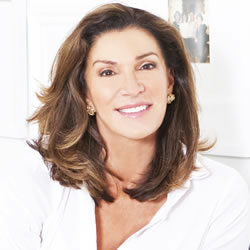 Hilary Farr is the talented and accomplished host of Canada's #1 home improvement and home design show, "Love it or List it," airing on Canada's W Network and the US's HGTV. The wildly popular series, featuring Farr and her unique sense of design, is currently filming its fifth season. Farr's creative inspiration is rooted in her explorative, international lifestyle. Born in Toronto, she has lived in Australia, England, California, and New York, and is now happily back home in Canada.
From Farr's projects and properties in Los Angeles' famed Laurel Canyon and Hancock Park, to Santa Barbara, to New York and Toronto, she has continued to hone her exceptional talents and skills. She has an acute sense of the nuts and bolts of the home design and improvement business, including building from the ground up, room additions, renovations and the execution of design and beauty. More than that, Farr understands the art of setting the stage and the importance of lighting to establish the mood and atmosphere within a home.
Much of her success can be attributed to her keen ability to listen to and understand the personalities of her many unique clients, and respond with distinctive designs that suit their needs and lifestyles. Her beloved warm, cheeky, straight-shooting persona along with her tasteful, stylish and functional design has become a subject of admiration for her many clients and viewers over the years.
Farr has a superbly keen eye for style and is constantly seeking to innovate within the field. When she first moved back to Toronto, she became the first designer to "stage" properties for sale, perfecting the art of creating ambiance. Since that time, she has watched the industry flourish. She continues to build and design homes in the downtown core of Toronto, where she herself owns properties. "I love making houses into homes, watching families embrace their new lives, and knowing that I contributed to their happiness. My clients are from both sides of the border, some of whom have been with me from the day they were married to their fourth home and now their fourth child!"
Drama, glamour and functionality are Hilary Farr's trademarks.
- Read More -
Speakers Like Hilary Farr
Check Speaker Availability and Pricing