Harry Neale
NHL Commentator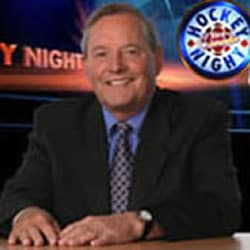 Famed for his role as a game analyst on CBC's Hockey Night in Canada, Neale was also the hockey analyst for CBC's coverage of the 2002 Olympic Winter Games in Salt Lake City and the 1998 Olympic Winter Games in Nagano and the 2006 Games in Torino.
Neale's broadcasting style is a rare mixture of insight, subtle humor and the knack of knowing when to let the on-ice action speak for itself. While TV audiences are watching the stars and the big plays, Neale digs deeper. Neale received a Gemini nomination in the Best Sports Play-by-Play or Analyst category for his work calling the 2002 Hockey Night in Canada Stanley Cup Playoffs.
As a former NHL coach and general manager, Neale offers viewers an "insider's" knowledge of the game and hunts for the little things that happen-which may have a bigger impact than the viewer realizes.
As a play-by-play commentator, Neale continues to uncover the keys to why some teams win championships and others only come close.
From his great one liners, to his genuine care for the game from a learning point of view, Harry Neale is one of hockey's true legends and provides great after-dinner entertainment.
Speakers Like Harry Neale
Check Speaker Availability and Pricing
"*" indicates required fields
The Wonderful World of Hockey