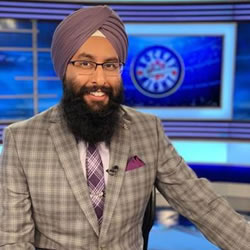 Born and raised in small town Alberta, Harnarayan Singh has risen through the broadcast ranks to become the host and play by play announcer on Hockey Night in Canada's Punjabi broadcast, challenging the status quo  along the way. Harnarayan also broadcasts English games on Hockey Night in Canada and is the host of Flames TV Punjabi.
Since the "Bonino, Bonino, Bonino" call during the Pittsburgh Penguins 2016 Stanley Cup run, Harnarayan's story has spread throughout the hockey world.
As the NHL aims to grow the game in new markets and diversify its fan base, Harnarayan symbolizes the power sport has to unite people.
His growing list of accomplishments include broadcasting over 700 NHL games, receiving the Meritous Service Medal by the Governor General of Canada and he is the winner of the 2018 Brian Williams Media Award.
Harnarayan lives in Calgary with his wife and two young children.
Speakers Like Harnarayan Singh