Hamlin Grange
Diversity Consultant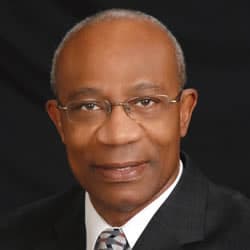 Hamlin Grange is a prime example of the Canadian Immigrant Story. Born in Kingston, Jamaica, he immigrated to Canada at the age of 10 and was raised in Toronto by his mother. Like so many immigrants, she had gone ahead to Canada to pave the way for "a better life" for her family. Hamlin attended Central Technical High School in Toronto, was a member of Canada's National Junior Track and Field Team, competed for Canada in Europe and the United States and was a Canadian junior record-holder for the 400M hurdles for several years. He competed in the 1976 Montreal Olympics Trials. Awarded an athletic scholarship to attend the University of Colorado, Hamlin earned a Bachelor of Science degree in Journalism with minor studies in African American Studies and Research Methodologies.
After working as a reporter at Denver's Rocky Mountain News, he returned to Canada and began an outstanding career as a journalist. At CBC Television, he was a new anchor, program host, interview, assignment editor and municipal affairs reporter. He was also a reporter at Global Television and the Toronto Star. Hamlin has hosted two popular television current affairs programs: Workweek, on CBC Newsworld and TVOntario and the CBC's More to the Story. Hamlin also co-hosted Good Evening Jamaica, a news and current affairs radio program that was heard across Jamaica and around the world over the Internet.
Today, Hamlin is president and co-founder of a diversity and inclusion consulting company based in Toronto. He works with a wide range of clients including major private corporations, not-for-profit organizations, television networks, health care providers and other organizations looking for ways to meet the challenges and reap the rewards of a culturally diverse marketplace. Hamlin is also co-founder of Innoversity and the Innoversity Creative Summit, an international event that brings together delegates from Canada, the U.S. and other countries from around the world, to share ideas, and showcase successes and breakthroughs in serving a culturally diverse society in a range of sectors, from media to other cultural institutions and corporate settings.
Hamlin has served on a number of important boards, including: The Toronto Police Services Board, a Trustee of the Royal Ontario Museum and the Board of the YMCA of Greater Toronto. He is currently a Member of the Consent and Capacity Board, an independent provincial tribunal whose mission is the fair and accessible adjudication of consent and capacity issues, balancing the rights of vulnerable individuals with public safety.
He has received numerous awards, including the YMCA's Peace Medallion, The B'Nai Brith Human Rights Award for Journalism, A CHUM TV-Black Film and Video Achievement Award and Award for Leadership, The African Canadian Achievement Award, and several others.
Hamlin is a sought-after keynote speaker and diversity trainer. He speaks eloquently and passionately about the power of diversity and the benefits of creating inclusive environments that value the perspectives and life experiences of everyone. Hamlin believes a deeper understanding of how culture affects human interactions is a vital prerequisite in today's fast-paced transmedia world.
- Read More -
Speakers Like Hamlin Grange
Rona Maynard
Former Editor of Chatelaine Magazine
Dr. Sima Samar
Chair of the Afghanistan Independent Human Rights Commission
Sally Armstrong
Amnesty International Award Winner, Order of Canada Member, Filmmaker, Author, Human Rights Activist
Check Speaker Availability and Pricing
"*" indicates required fields
Community Leadership and the Media
"Using humour, personal anecdotes and sound-bytes of relevant data, Hamlin quickly disarmed the crowd of any preconceptions we may have had on the subject of diversity. He then proceeded to effectively present diversity as a challenge, that when embraced, offers a wealth of opportunity within communities, marketplaces and even, service clubs. The response to Hamlin's presentation was overwhelmingly enthusiastic." Rotary Club of Whitby Sunrise