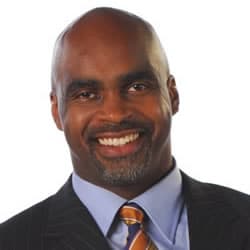 A two-time Grey Cup champion, Duane Forde joined the CFL on TSN team in 2008 as game analyst alongside play-by-play announcer Rod Black. Forde also contributes regularly to SportsCentre and writes a weekly column for TSN.ca.
The former first round draft pick earned the reputation of being the best blocking fullback in the CFL during his 12-year career. Forde played for four CFL teams, making five Grey Cup appearances, winning twice with Calgary (1992 and 1998). He was the Stampeders' team captain for four seasons and played an impressive 150 consecutive regular season and playoff games from 1993-2000.
During his career, Forde was teammates with each of the TSN studio analysts: 1993 in Winnipeg with Matt Dunigan; 1994 in Toronto with Chris Schultz; and 1995 in Toronto with Jock Climie.
A CIS standout, Forde played with the University of Western Ontario Mustangs for four years, in which the team lost only one regular season game. Forde was named the team's MVP twice and was co-captain of the Mustangs' Vanier Cup championship team in 1989.
Prior to joining TSN, Forde worked for seven years as a game and studio analyst for CFL and CIS Football telecasts on both The Score and Rogers Sportsnet.
During the CFL off-season, Forde teaches physical education and French at Port Credit Secondary School and is the coach of the school's varsity girls' hockey team.
Forde was born in Toronto and resides in Mississauga, Ont., with his wife Sheri Forde, a reporter for SportsCentre on TSN. In June 2008, Forde was inducted into the Mississauga Sports Hall of Fame.
- Read More -
Speakers Like Duane Forde