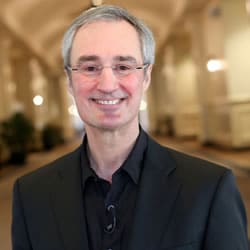 Book Dr. Mark DeVolder
Add to My List
Mark DeVolder is an award-winning consultant, author and highly sought after international speaker. Dr. DeVolder has engaged and delighted audiences from Monaco to Dubai, from Singapore to Jamaica and from Istanbul to Kuala Lumpur. DeVolder's high-octane, content-rich and humor-filled presentations empower people to be bold, nimble and innovative in face of constant change.
Known as the Change Specialist, Dr. Mark DeVolder is recognized as one of today's original thinkers and motivators on change and transitions. Mark has worked with hundreds of clients, thousands of industry leaders and Fortune 500 companies. Dr. DeVolder has advised on some of the world's largest mergers and acquisitions, one in excess of 50 billion dollars. His clients have included NASA, McDonalds, PepsiCo, Siemens, Suncor, Medtronic, Bristol-Myers Squibb, Verizon, RE/MAX and PricewaterhouseCoopers. Mark has spoken on four continents and in over 20 countries.
All of DeVolder's presentations are highly customized for the client, industry and the event; Mark partners with organizers, creating a spirit of collaboration to deliver measurable takeaways for their organization.
As an award winning speaker, Mark has received the Top 5 Speaker Award in Business Management, Top 10 Speakers in Change Management and Top 25 Speakers USA. Mark DeVolder is known for his compelling combination of cutting edge content, riveting storytelling, engaging audience interaction and practical take-aways. You and your team will be inspired and motivated to act.
Speakers Like Dr. Mark DeVolder
Harness the Hurricane: Adapt to Extreme Change
Change is constant, unpredictable and accelerating. Extreme change can - much like a hurricane - leave you dizzy, dazed and disoriented, as though the earth is moving under your feet. Even if you survive the storm, you know more is coming.
Change expert Dr. Mark DeVolder throws a lifeline to you and your team with tools and strategies he's developed to clear away the fog. You will learn how to rewire your brain to bounce through adversity, overcome obstacles and reinvent yourself. Mark's cutting-edge principles will enable you to adapt boldly, nimbly and quickly in midst of constant change.
During Mark's high-octane presentation, you will learn how to: 
overcome change-paralysis and get mobilized through transitions
develop change-ready thinking and behaviours
overcome decision-quicksand, making smart-decisions, faster 
repeat the cycle of success with the unstoppable power of resilience
Resilience: Unstoppable Success
We live in a VUCA world: volatile, uncertain, complex and ambiguous. It's not surprising that leaders who survive, thrive and deliver in business today have one trait in common; they are resilient. But resilience is not just for a few; it can be learned.
Mark shares how to rewire your brain's neuroplasticity to bounce through adversity, overcome obstacles and reinvent yourself. He reveals success strategies that enable you to adapt boldly, nimbly and quickly in midst of constant change. You will learn how to:
create a winning mindset of self-belief and unlimited potential 
increase innovation and engagement through constructive nonconformity 
expand tenacity and decision-making instinct 
repeat and sustain the cycle of success, again and again
On Fire! Energized Together
When individuals lose their spark, organizations lose their fire. This predicament has a devastating effect on productivity, profitability and company reputation. But it doesn't have to be that way. Mark's test-driven model of engagement equips people to identify the causes of "flame out" and recognize behaviours that act as a fire extinguisher. People will learn how to accept new practices and let go of the past with DeVolder's easy to apply engagement strategy that increases clarity, competence, influence and appreciation.
Mark shows leaders how to:
identify behaviors to increase engagement
re-ignite employee's passion for teamwork, communication and innovation
build a culture of trust, loyalty and appreciation
accelerate performance and productivity
Sixty to Zero in Your Workplace: Engage High-Performance Safety"
Hazards and obstacles abound in the fast and frenzied pace of business today. In the rush to stay competitive, people are increasingly tempted to take short cuts and sacrifice safety.
The most common barrier however is actually change itself. Some employees feel paralyzed by change, and when they feel paralyzed, they disengage. Without the ability or capacity to change, accidents can happen.
DeVolder's proven transition model enables people to accept new practices and let go of the unsafe past. As people become Change Ready their level of engagement rises. DeVolder supports this progression with his easy to apply strategy increase clarity, competence, influence and appreciation.
During Mark's high-performance presentation, you will learn how to:
get change-right and change-ready
defy change paralysis through Mark's mobilized for safety approach
significantly reduce risk of accidents and liability
identify behaviours that enhance engagement
implement strategies to increase productivity, motivation and safety
Empower your employees to achieve "target zero."
"Phenomenal presentation. Thank you for kicking off our meeting with power!" - Tahisha Adams-Bradford, Conference Organizer, Siemens, Portugal
"Mark DeVolder did a terrific job for us!" - CEO, Cornelius Catena Commonwealth Health, Pennsylvania
"Mark DeVolder was phenomenal!!! People said so many nice things about Mark!!!!" - Natalie Schimmelbusch | Executive Assistant |Wilkes-Barre General Hospital

"The session went very well! Thank you!" - Jill L Breitbach | Director - Employee and Organizational Development, ALLIANT ENERGY
"Our team has always struggled to figure out how to get our members to loosen up... Mark showed us that they can do it! I'd highly recommend him to other states looking for a meaningful motivational speaker." - Tracey A. van Marcke, Executive Director, Virginia Hospital Research and Education Foundation
"Mark, you were nothing short of awesome!!! Your advice is priceless and yes, we'd love to have you back to speak to PepsiCo.Thank you so much for a wonderful experience!" Maria Sharpe, Chief Personnel Officer, PepsiCo Europe
"I've been inspired listening to Dr. Mark DeVolder talk about change management. Quite frankly, it was the absolute best presentation of the whole leadership conference. It left our leaders with knowledge that can be applied, once we get back, to the hard work of transforming health care." Dr. Bob Bryant, Senior Vice President, Riverside Health System, Virginia
"On numerous occasions, Suncor Energy has retained Dr. DeVolder for motivational speaking engagements ... his unforgettable presentation has never failed to engage and inspire all of those in attendance. Dr. DeVolder's strategies for managing change are timeless, relevant, universal in appeal, and of practical value to anyone." Brad Elder, Health and Safety Coordinator, Suncor Energy
"Nearly a month after the conference, my colleagues are still talking about his presentations." California Dental Association
"I was in attendance at the 2013 Alberta Health and Safety Conference yesterday and have to say that I was absolutely thrilled with your keynote presentation. I took so much from that session and I have to say a HUGE thank you!! There were items that you pointed out that rang true for me, as I'm sure there were for the others in attendance. Truly amazing." Annette DeCaire, Safety Conference
"When I first registered for the conference I did not think that your session would have much to offer me, but I was pleasantly surprised to find I had been wrong. I enjoyed your session so much I also picked up a copy of your book, "Get Engaged!", after the session. Your book has already become a hit with my boss and she is using it herself to help better align our staff and ensure we are getting the best out of ourselves and each other." Kristi Weisgerber, XEMEX Contracting Inc
"Your presentation was excellent and quite engaging. Your speech had a large impact on me." Lindsay Rigby, United Rentals, Alberta South District
"What a fantastic session to open the conference on Monday!" Sharon Long, Housing Foundation
"I loved the whole presentation- the heart to heart delivery, authentic, practical, very connected to the audience." Heart and Stroke Foundation
"Thank you again for an engaging, entertaining, empowering presentation. I believe we all left with a better grip on our own humanity and tools to soar higher. " NASA, Spaceport Operations
"Dr. DeVolder's strategies for managing change are timeless, relevant, universal in appeal, and of practical value to anyone." Suncor Energy
"Thought-provoking and dynamic. Moving and powerful. Remarkable energy. Mark was inspiring and kept the audience charged." PricewaterhouseCoopers
"Dr. DeVolder's presentation was outstanding." International Mergers and Acquisitions Professionals, Turkey
"Mark's view on change were highly valued by all of us." FEMSA Coca-Cola Mexico
"Many of our executives stated that you gave them more to think about than any speaker in the past regarding navigating change and transition." Motion Industries
"Dr. DeVolder's presentation was deep and important for our development in a daily changing world." Executive Director, BPO, Bogotà, Colombia
"Nearly a month after the conference, my colleagues are still talking about his presentations." California Dental Association
"Mark's keynote was amazing, full of great information for our members. It was a huge success!" Certified Management Accountants
"It's rare that a professional speaker can hold the attention of a crowd and bring people to their feet and Mark you did just that!" Sales & Marketing Associated Grocers