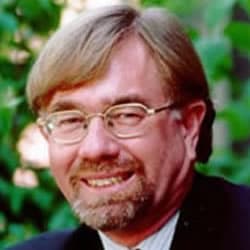 Following his undergraduate degree in Australia and his doctorate in economics from Harvard University, Professor Foot's research involved economic projections. Subsequently, he focused on Canada's declining population growth and associated population aging as one of the fundamental and often neglected determinants of the challenges to economic performance and policy. His research has resulted in contributions to a variety of specific fields such as marketing, human resource planning, corporate organization, housing, health, education, recreation and leisure, financial planning, unemployment, migration, government expenditures, policy and intergovernmental relations.
Foot, Professor of Economics at the University of Toronto, is the author of the best-selling books Boom, Bust & Echo: How to Profit from the Coming Demographic Shift and Boom, Bust & Echo: Profiting from the Demographic Shift in the 21stCentury, the updated paperback. These books are based on his research on the economic impact of demographic change, and the resulting implications for industry sectors and both private and public policy. His books have sold over 300,000 copies in Canada and were on the Canadian best-seller lists for over three years.
David Foot is an outspoken and controversial demographics expert who can bring to life demographic statistics and make the aging of society relevant to any specific interest group. He explores how changing demographics, especially the aging of the massive Boomer generation and the coming into the marketplace of their children, the Echo generation, will redefine society's needs.
Change can't be avoided, but it can be prepared for and managed. With an understanding of demographics, a business, an individual or a government has a strong foundation upon which to build.
Foot addresses issues from a global perspective as well as from a North American perspective, having been born in England, raised in Australia, educated in the United States (Ph.D. from Harvard) and living in Canada. He is a much sought-after speaker for corporations, associations, community groups and governments around the world.
An award-winning teacher, Foot received one of the national 3M Awards for Teaching Excellence administered by the Society for Teaching and Learning in Higher Education, and twice received the University of Toronto undergraduate teaching award.
An enlightened and inspiring "futurist", David Foot's insights and conclusions have profound implications for everybody, especially people in business.
- Read More -
Speakers Like David Foot, Ph.D.
Ken Dychtwald
Futurist, Psychologist, Gerontologist and Best-selling Author
Check Speaker Availability and Pricing
Boom, Bust & Echo: Marketplace Challenges in The New Millennium
Demographics are about people and people are customers. Since customer needs change over their lifetimes, the aging of the Boom, Bust & Echo demographic profile continues to affect every business and organization (from toys to travel, schools to sports, food to finances, home renovations to hospitals). Market trends will be explained and anticipated.
Boom Bust & Echo: Workplace Challenges in The New Millennium
Demographics are about people and people are employees. This presentation shows how past trends in workforce and organizational behaviour are closely linked to the aging of the Boom, Bust & Echo demographic profile. Future workplace changes and challenges for the individual organization and for society are outlined, including a discussion of recruitment, retention and retirement strategies. Occupational differences can be included.
The World of Demographics and the Demographics of the World
This global presentation demonstrates how demographic and economic survey data can be combined to assess market potential for products and services in countries around the world. The implications of population aging in the developed world and the movement of workers around the world are discussed. Emerging markets of the future are outlined and workforce implications explored.
All presentations are tailored to client interests and objectives using the latest available demographic and survey data. Questions are encouraged and a post-presentation discussion workshop can be arranged.
Recent Publications by David Foot, Ph.D.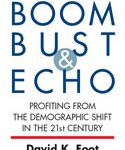 Boom, Bust and Echo
"This year's Travelodge Canada conference was one of our best ever, in large part thanks to your informative, engaging and thought-provoking presentation to our franchise community. We were so impressed with the quality of your message and your engagng delivery. You took the time to understand our business and to tailor your message to create meaning and understanding within our group. In today's business environment, organizations often struggle to understand their customers and the markets they operate within. Your discussion of demographics in Canada, and around the world, gave us an entirely new way of looking at our business operations, our customers and our employees." Travelodge Canada
"David Foot's program should be the model. He pushes thoughtful discussion in a strategic area with a humorous manner." PCL Construction