Dave Prentice
Dynamic Sales, Marketing and Customer Service Professional.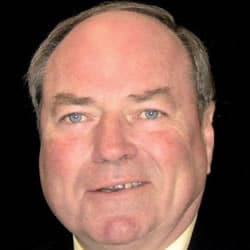 Over the past fifteen years, David has worked on sales, marketing and specialized customer service and training projects with many of Canada's most progressive organizations. He has personally designed, written and conducted sales development seminars and keynote addresses for AT & T, IBM, Johnson & Johnson, J. M. Schneider, Coca Cola, Bell Canada, Bell Mobility, Ford of Canada, Peat Marwick, Northern Telecom, Sun Life, M & M Meats, Great West Life, AGF, London Life, Canadian Airlines, Molsons, Toronto Dominion Bank, Canada Trust, CIBC, Canadian Tire and the Royal Bank.
Prior to starting his consulting firm, David held a variety of senior sales, training and management positions with the Xerox Corporation in both Canada and at the Xerox International Training Centre in Lessburg, Virginia. In addition to working for Xerox, Dave also held positions in sales, management and training with General Foods Limited and Warner-Lambert.
An extremely funny, dynamic, knowledgeable, down-to-earth, witty and gifted speaker, David teaches practical techniques that are readily useable, and people have a blast doing it! David is truly one of a kind. A popular trainer, he is sure to help equip your team and set you on the road to successful sales and customer service.
Speakers Like Dave Prentice
Sam Geist
Service, Marketing, and Sales Expert
Ross McBride
Leading Authority on Negotiation, Sales, Marketing and Team Leadership
Patrick Leroux
Bilingual Expert on Virtual Motivation and Performance
Check Speaker Availability and Pricing
"*" indicates required fields
Peak Performance:
Peak performance will focus on skills, technology and strategy for personal performance. Dave will present a number of business models that will help each participant increase sales, deliver exceptional service and build loyalty with their customers.
How to Create Super Charged Service:
Dave will focus on:
Delivering value on each and every customer contact
Understanding value from the customers' point of view
Knowing how the customer perceives value
Skills, techniques and strategies to positively influence the customer
How to understand the customers' needs, problems, wants, and concerns
Dealing with all types of customers in all types of circumstance and situations
The Competitive Edge:
Success in sales seldom just happens. Truly professional first-quarter sales professionals have the ability to utilize skills, technology and strategies to advance sales to a close. This seminar is about honing skills to insure a clear competitive edge. Specifically, it will focus on practical "how-to's' that will increase sales performance. It will deal with:
How to open sales calls more effectively
How to manage the decision making process
How to utilize SPIN strategy to identify, develop and satisfy client needs
How to handle client concerns and objectives and change them into positive opportunities
How to close effectively without pressure
In addition, the session will focus on increasing sales by targeting "high-propensity to buy' clients.
"Your keynote address and workshops were both motivating and entertaining and were the top rated sessions at our seminar." Equinox Financial Group