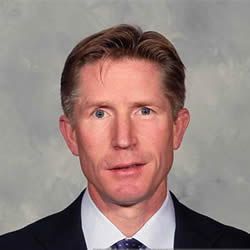 Dave knows how to adapt his style to his roster, he's survived in a tough hockey market and he's turned teams around in short order. As the first head coach to go directly from the NCAA to the NHL since 1982, let Dave share his insight and experience into how to elicit change quickly and effectively.
Hakstol, came to the Flyers from the University of North Dakota where he spent 11 seasons compiling an overall record of 289-143-43 with a .654 winning percentage in 475 games. In 2014-15, he led North Dakota to a 29-10-3 record with a .726 winning percentage and a berth in the NCAA Frozen Four.
North Dakota made the NCAA Tournament in every one of Hakstol's 11 seasons and reached the Frozen Four seven times in that span, which is the most of any program in the country during that period. Hakstol led North Dakota to an overall postseason record of 54-24 for a .692 winning percentage, including a 17-11 record in the NCAA Tournament, during his tenure.
Hakstol's program has produced 20 NHL players and a total of 46 that have played professionally at some level.
Speakers Like Dave Hakstol
Mike Babcock
Former Head Coach of the Toronto Maple Leafs; Stanley Cup and Olympic Gold Medal Champion
Joel Quenneville
Head Coach Florida Panthers; Stanley Cup Champion
Bruce Boudreau
Minnesota Wild Head Coach; Member of the Hockey Hall of Fame
Appearances
Bring the excitement of the NHL and the cache of a NHL celebrity to your events, golf tournaments or corporate dinners by having Dave Haskstol act as your host, emcee or engage in a meet and greet.  As a local native to Drayton Valley, Alberta, his ties to his community, success in the big leagues and his compelling, personal stories make Dave Haskstol a great speaker, as well.
Hockey Stories - Life in the NHL
What's it really like to run a professional NHL team?  Look behind the boards to hear tales from the bench, locker room and about the players themselves.  This unique insight will provide you with lessons on goal setting, the winning edge sprinkled with humor and stories that you won't hear anywhere else!
Leadership
What does it take to win a Stanley Cup?  Success in the NHL parallels success in business.  Learn from the greatest sports leaders today on how they lead their business and, as importantly, deal with setbacks to refocus on meeting their end goals. 
Motivating Millennials
One of the hottest debates today is "How do you motivate Millennials to drive your business forward?"  Hear from one of the best NHL Coaches, who take a different group of Millennials each year and motivate them to the reach their highest performance both individually and as a team.