Chris Barton
Founder and Creator, Shazam | Entrepreneur | Tech Investor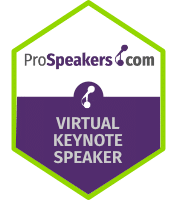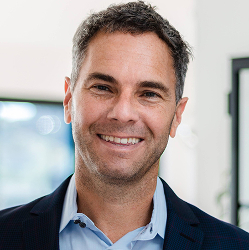 Chris Barton wanted a way to identify the songs he was hearing everywhere around him. There wasn't one — so he invented it. The founder and creator of Shazam — which now has over two billion downloads and was Apple's sixth largest acquisition — Barton excels at using technology to make seemingly impossible ideas come to life. The holder of 12 patents, his incredible story captivates audiences and leaves them inspired to make big things happen in their organizations and create magic in defiance of any and all obstacles.
Founded in 2000, Shazam was far ahead of its time — three years before iTunes, seven years before the iPhone, and eight years before the App Store. In its ideation stage, Barton was told by professors at both MIT and Stanford that his idea was impossible, but he refused to take no for an answer. Besides building a new technology that had yet to exist in the world, he also built a search engine supercomputer from scratch and created the world's largest music database.
For six years, Shazam teetered on the brink of bankruptcy as it waited for key digital advancements to arrive and allow it to unleash its full potential on the world. In 2018, Shazam, and its 200 employees, was acquired by Apple and today, it is considered one of the world's most popular apps. It even inspired the popular game show, Beat Shazam, hosted by Jamie Foxx.
Barton has cemented his position in tech history. Aside from Shazam, he is also a founding member of Google's Android Partnerships team, where he created Android's mobile operator partnership framework, and worked at Dropbox for four years leading carrier partnerships. In addition, Barton holds 12 patents, including one found within the Google search algorithm that billions of people use everyday.
Today, Barton invests in a wide range of startups and is building his third company, Guard, a system that detects drowning in swimming pools using artificial intelligence. He is also a popular keynote speaker, who draws from his incredible career of achieving the impossible, despite having dyslexia, to inspire and motivate audiences around the world.
Prior to his audacious technology career, Barton was a strategy consultant and earned two master's degrees from UC Berkeley and Cambridge University.
Speakers Like Chris Barton
Josh Linkner
Five-time tech entrepreneur, hyper-growth CEO, NY Times bestselling author, venture capitalist, professional jazz guitarist and keynote speaker
Darrell Keezer
Digital Expert/Disruptor
Dr. Grant McCracken
Leading Global Futurist, Trends and Innovation Expert
Check Speaker Availability and Pricing
"*" indicates required fields
Create Your Own Shazam Magic
From the moment Chris Barton dreamt up Shazam, he was told identifying songs out of thin air was impossible. His path from a dream to a $400 million acquisition by Apple is a story out of a Hollywood movie. Meanwhile, Shazam has racked up over two billion downloads!
Barton's story and insights give people the inspiration and tools to accomplish big things within their own organizations. He shares lessons learned from founding Shazam and how new concepts like "creative persistence" and his "Start from Zero" methodology can help you overcome barriers. Startups use these concepts to tackle insurmountable obstacles — and you should too. Learn how to make big things happen and create Shazam-like magic!
Whether presented as a talk or a moderated conversation, this keynote can be tailored to focus on creativity, innovation, leadership, resilience, collaboration, and more.
Audiences will learn:
How to question the familiar to distill the basic truths.
How to overcome barriers with creative persistence.
How to remain focused on core insights despite resistance.
How to make things simple and friction-free.
How to replace "uninspiring" with "delightful" by connecting to emotions.