Alison Griffiths
Journalist, Author and Broadcaster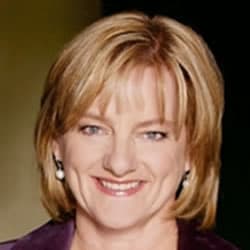 Alison Griffiths is an award winning financial journalist, bestselling author and experienced broadcaster. She brings to her work a formidable array of skills including investigative research, financial expertise and accomplished writing.
Alison writes the popular "Me and My Money" column in the Toronto Star newspaper and her reputation for dispensing financial advice and information with insight and humour has fueled demand for her as a speaker on money matters. Thousands of readers have turned out over the last four years to attend her House Calls seminar series on investing and money management.
Alison has received awards from Actra, The Canadian Centre for Investigative Journalism, the Business Writing Awards, the Geminis, the National Magazine Writing Awards, the Canadian Library Association and the Robert Wagner Screen Writing Awards.
Alison has hosted numerous television and radio programs including Midday (CBC TV), the Canadian Investor (CTV), the Inside Track (CBC Radio) and Morningside (CBC Radio), Maxed Out (W Network) and Dollars and Sense (Viva).
Alison Griffiths is hugely insightful, frank yet empathetic. She's a charismatic broadcaster and a powerful advocate for financial literacy. If you're going to take any financial advice, you will take it from her...
Speakers Like Alison Griffiths
Check Speaker Availability and Pricing
"*" indicates required fields
Picking Up the Pieces:
Life takes all kinds of unexpected turns and most of them have financial consequences. This speech takes the audience through a series of steps leading to a financial and life renovation. With wry humour Griffiths offers her own experiences of unexpected life disasters through the illness and near death of her daughter and how she picked up the pieces.
Financial Wellness in the workplace:
This speech/seminar/workshop is targeted at corporations and NGO's where there is recognition that financial stress is a major factor in employee productivity and absenteeism. In seminar or workshop form attendees learn how financial stress affects their employees, how to recognize it and what steps can be taken to be supportive and pro-active.
Count On Yourself:
This seminar/speech/workshop is aimed at demystifying many aspects of personal finance and investing. The focus is on how to make good financial decisions, how to get organized and simplify your money. This is about taking control and empowering yourself to become a decisive and informed manager of your own financial affairs. All too often we hand off this part of our lives to those who, in the end, don't have our best interests at heart. Count on Yourself and take control.
Improve your Sex Life by Improving your Financial Life:
Sex and money go together like love and marriage in the old song. This seminar delves into the topic of money and relationships and how to avoid problems or fix them when they appear. Since financial stress is now the leading cause of marital breakup, this is a key issue for couples these days.
Budget Boot Camp:
Break the paycheque to paycheque cycle with an audit of your financial life. In this speech/workshop Alison's lively and motivational ideas and tips show you how to do a 180 on an unhealthy balance sheet. Full of informative and easily followed suggestions everyone will come away with a sense of financial empowerment.
"Alison Griffiths' presentation at our Women in Business Conference was amazing and insightful. The information communicated about financial responsibility and organization are important lessons for all of us. We would welcome her back at anytime to speak to our group again. Thanks, Alison!" Shannon School of Business, Cape Breton University
"On behalf of all the Newfoundland and Labrador Organization of Women Entrepreneurs staff, I wanted to thank you for being a part of our 2011 Provincial Conference - being reviewed as our best to date. We have been getting wonderful feedback about your workshop." NLOWE
"I learned so much from your presentation! I now know how to approach my personal and business finances without fear. Your tips were excellent." NLOWE
"Your presentation was just what the 'financial doctor' ordered - from my vantage point the audience was very engaged and interested. We have already received feedback about the event, with one long time attendee explained that this was the best Saturday @ Rogers event they had attended. I think that speaks volumes!" Rogers Communications.